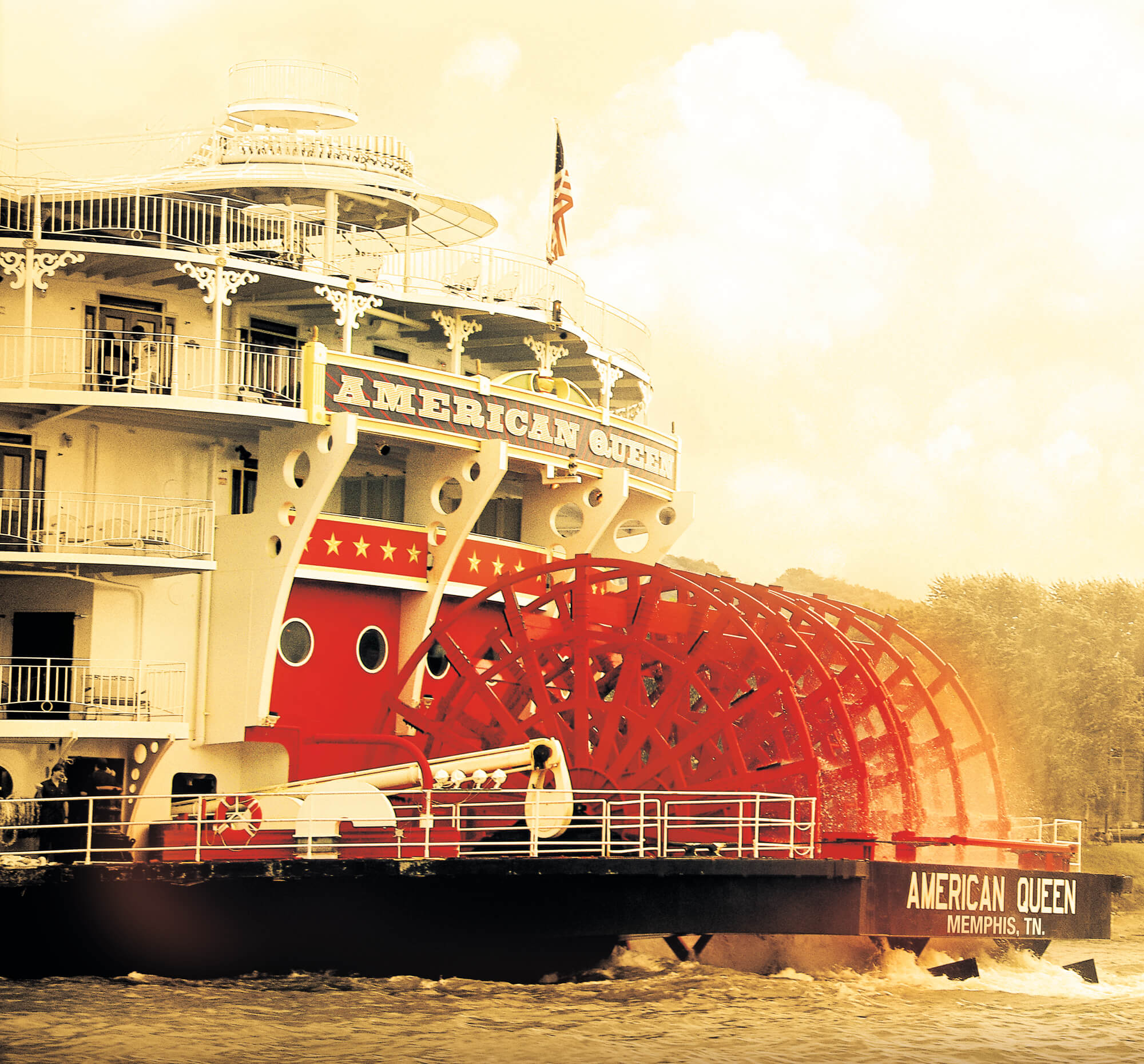 Steamboats: Capturing the American Imagination through the Years
October 19, 2018
A pilot, in those days, was the only unfettered and entirely independent human being that lived in the earth.
– Life on the Mississippi, by Mark Twain
In 1698, the first steam-powered machine was built by English military engineer Thomas Savery. His invention became known as the Miner's Friend. It pumped water out of mines and set the stage for the ambitious development of further steam-powered machines, which set the course for the great Industrial Revolution. A Scotsman named James Watt made the most critical improvements to the concept when he invented a steam engine in 1769. After that, life was never the same. Inventors all over the world raced to develop steam engine-powered technology—with added emphasis on transportation. Since most travel at this time was determined by our great waterways, it was the steamboat that had the first success.
Britain wasn't too happy with its former colony, and they closely guarded Watt's exciting new engine from any export. But such a strategy wasn't a fail-safe against the tides of American ingenuity. In 1787, a man named John Fitch, a self-taught Connecticut farm-boy, heard the rumor of Watt's steam engine and set out to develop his own. Fitch sought out the help of inventor and clockmaker Henry Voigt and—to an audience of delegates from the Constitutional Convention—together they launched the first successful steamboat trial down the Delaware River on August 22, 1787: Perseverance. The boat's side-oars had it paddling like a duck, but it could carry thirty passengers. In the summer of 1790, it made numerous trips between Philadelphia and New Jersey.
Fitch fought tooth and nail for a patent to his invention, and his efforts even brought about the enactment of the first Patent Act of 1790. Unfortunately, considering what a hot commodity the steam engine had become, there were several others vying for its rights. A patent-war ensued. Fitch gave up hope of building his dream in America and traveled to France where he received a patent in 1791. But with the blossoming Reign of Terror, he had to scrap those plans as well and turn to Britain. Alas, he failed again. After some last tries in his American homeland, he hung up his string of failures with his hat in Kentucky, but this lesser known hero deserves our applause.
It wasn't until two decades later that a collaboration between the American engineer and inventor, Robert Fulton, and an engineering-avid American investor, Robert Livingston, made the steamboat a commercial success. The Clermont carried as many as a hundred passengers at a time up and down the Hudson River between New York City and Albany. Until his death in 1814, Fulton served as appointed member of the Erie Canal Commission. Incidentally, before the Clermont, Fulton also produced the first submarine in history for none other than Napoleon Bonaparte.
Most steamboats built in the nineteenth century used a paddlewheel on the rear or side of the boat. Wood and coal were the primary resources used to power these machines. Today, steamboats are usually powered by steam turbines that rely on direct propulsion or turbo-electricity. Most steamboats of the nineteenth century were one of five categories: towboats, ferries, snagboats (cleared the river of debris), packets (carried products, mail, and people), fuelers (supplied other steamers with wood or coal), and the most famous, showboats.
America's popular imagination of the steamboat is arguably overtaken by the idea of the showboat under the direct influence of a selection of movies, literature, and music. Most notably, you may recall Show Boat, originally a best-selling novel written by Edna Ferber, which was then adapted into a musical produced in 1927 by Florenz Ziegfeld. It eventually was reproduced as three separate films. These representations have anchored the American imagination to a distinct image of the showboat. The 1929 film version of Show Boat was part-talkie and starred Laura La Plante and Joseph Schildkraut. The 1936 version starred Irene Dunne and Allan Jones, and the 1951 version starred Kathryn Grayson, Ava Gardner, and Howard Keel. As both musical and film, Show Boat was considered groundbreaking for including both black and white actors and performers. It was also noted for its themes of miscegenation, gambling, alcoholism, and desertion. Interestingly, James Whale, best remembered for his work directing Frankenstein, Bride of Frankenstein, and The Invisible Man, was actually the proudest of his musical-turned-film, 1936's Show Boat.
In 1952, Jimmy Stewart perpetuated the Western idea of the steamboat with his film Bend of the River, filmed in part on the Columbia River in Washington and Oregon. The film must have done well because in 1954, Jimmy Stewart starred again as a steamboat passenger in The Far Country, a film about a man who ventures from Seattle to Alaska on board a steamboat during the Klondike rush. America was eating it up. In 1959 NBC decided on a TV series called Riverboat that followed the Enterprise along the Mississippi, Missouri, and Ohio rivers. This series  presented Burt Reynolds in his debut television role.
The lighthearted 1994 movie, Maverick, starring Mel Gibson and Jodie Foster, continued to explore these Western themes. A quick Google search reveals several theaters that are selling tickets to a contemporary performance of the original musical, Show Boat—it seems we just can't escape our collective intrigue about the beauty, drama, and complexities of steamboat cruising.
What is steamboating all about today? Are the steamboats of today reminiscent of the Hollywood era-image that pervades the collective and popular imagination? Are these steamboats still rife with gun-toting gamblers and musical renditions of the damsel in distress? Luckily, there is an authentic paddlewheel steamboat to impress upon us the awe-inspiring beauty of man-made ingenuity amid the bounty of our natural splendors. 
American Queen Sailing Company offers an authentic paddlewheel steamboat complete with an exterior of lacy-white filigree and an interior full of Victorian-era charm. Although filled with state-of-the-art amenities, you'll be transported back in time. The largest steamboat ever built, the American Queen is a gracious and elegant triumph reflecting America's ingenuity. Tap your feet to a lavish Broadway-caliber show in the Grand Saloon, or select a volume from the collection in the Mark Twain Gallery.
If you feel inspired to participate in the great American steamboat tradition, check out one of our upcoming Mississippi River cruises on the American Queen.