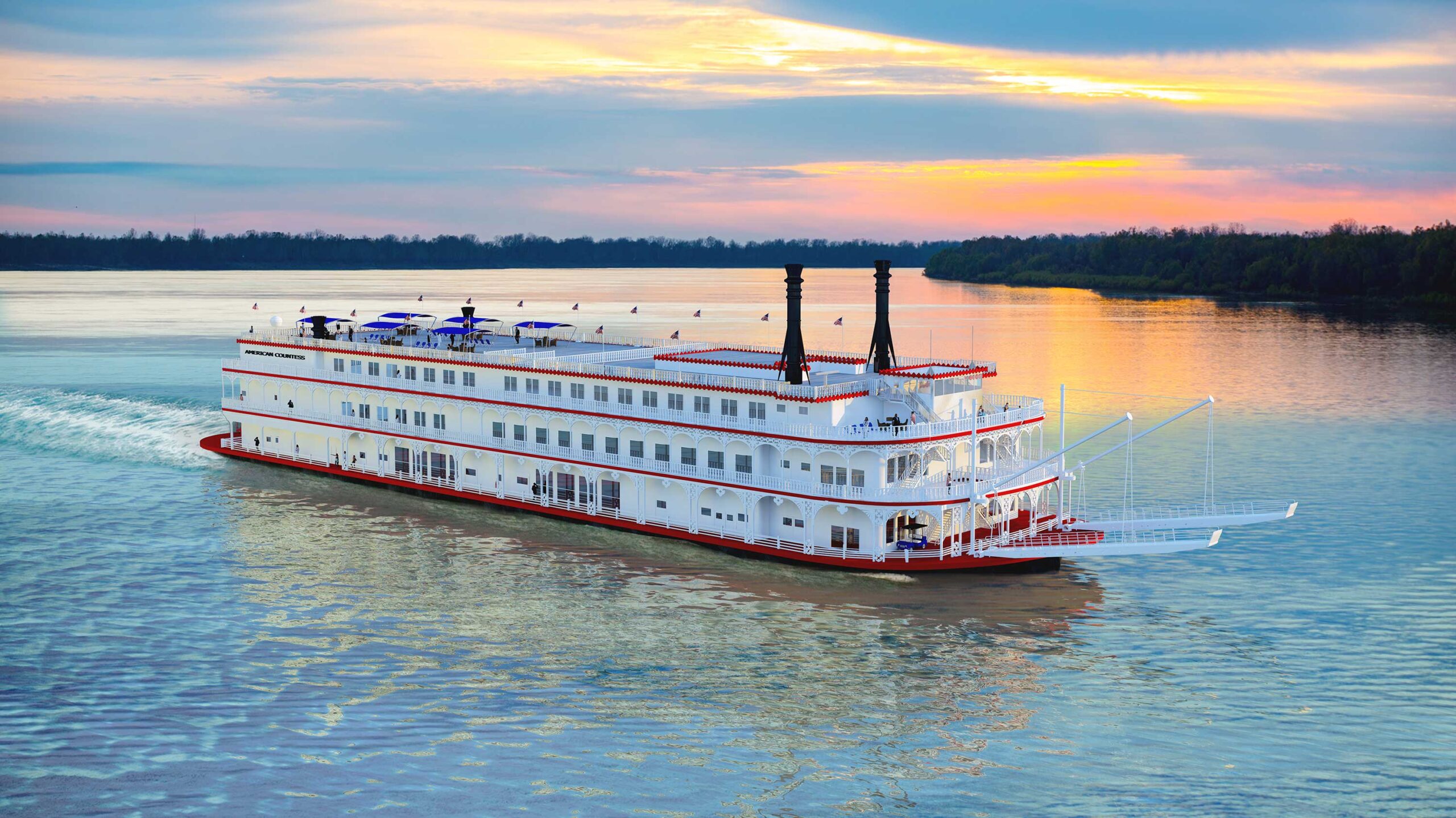 American Countess
May 10, 2021
When it comes to the well-being of our guests, we make no compromises. While some individuals are hesitant to book any sort of travel at this time, cruising happens to be one of the safest forms of travel right now––and I couldn't be more grateful, as we welcome a new vessel this year to our growing list of U.S. product offerings.
Welcoming American Countess
A Go Next cruise partner, American Queen Steamboat Company, has just introduced the latest addition to their fleet of authentic paddle-wheelers, the American Countess. And let me tell you first-hand, she is absolutely beautiful!
Be one of the first to experience her elegance this fall as she makes her way down the mighty Mississippi from the Big Easy to the Home of the Blues. The cabins feature a sleek and modern design that provides the perfect place to relax after an adventurous day of shore excursions. The new American Countess consists of four decks, including a Sun Deck, and 123 luxurious, yet oh-so-cozy staterooms, that will make cruising through North America a truly unforgettable experience.
If you're anything like me, one of your first questions when it comes to travel is, "Will there be great food?" Well, friend, I am so happy to say the answer is a big YES. If you like casual dining, the River Grill has an incredible prime rib roast with roasted potatoes and a classic house-made mac and cheese that I highly recommend. If you are looking for a fine dining experience, the Grand Dining Room has a rich ambience showcasing varied culinary influences. Don't forget to take advantage of the complimentary room service menu as well! I highly recommend the quesadillas.
A few additional amenities that stood out to me were the spaciousness of the rooms and restrooms and how private the balconies felt. The high ceilings created a feeling of grandeur and the theater was quite comfortably spaced with wonderful entertainment.
Keeping You Safe
Coming up on a full year without travel, American Queen Steamboat Company has had several months to figure out how to keep passengers safe, while still providing guests an exceptional travel experience. We all want to feel good about travel, and our partners have truly gone above and beyond making sure accommodations are comfortable for everyone.
A few new safety features that have been implemented include:
COVID-19 vaccination is required for all guests and crew
Prior to boarding, passengers will check-in at a complimentary pre-cruise hotel stay, complete a SafeCruise health questionnaire, and participate in a PCR test
In all spaces where recommended social distancing is not possible masks will be required
Every space will undergo enhanced anti-microbial disinfection with medical-grade EPA-approved solutions and twice daily anti-viral electrostatic fogging will occur in all public and crew spaces along with supplemental overnight deep fogging
Alcohol-based hand sanitizing stations will be placed strategically throughout the ship
Crew are trained on all health and safety preventative measures
A licensed nurse will be on board and available throughout the voyage
And many, many more. Read more safety features here.
The American Countess is the newest and most luxurious cruise ship on the Mississippi. It and offer routes between New Orleans and Memphis.
Planning safe travel is possible! We would not resume our operations if we did not believe we could do it safely. Through the multi-level safety measures implemented, we are jumping up and down with joy to begin traveling again with American Queen Steamboat Company and we hope to see you on a cruise with us very soon.
Guest blogger, John Weeks, CEO, Go Next