Heartland Journey - Bourbon Experience
Sample from world-famous distilleries as you experience good old Kentucky charm on this 7-night trip aboard American Queen Voyages' American Countess™. Begin your journey with an included 2-night Louisville Go Beyond with Go Next Pre-Cruise Program featuring tours of several historic Kentucky bourbon distilleries with included bourbon tasting and lunch.
Set sail on the Ohio River, but don't forget to stop to taste the traditions of Brandenburg—Kentucky's bourbon-infused past. In Owensboro learn the history of the distillers who operate around the city such as the Glenmore Distillery Company. Try a bowl of burgoo in Henderson. Immerse yourself in the culture of artisans in Paducah with its National Quilt Museum, art galleries, and eclectic restaurant scene. Before disembarking in Nashville (Clarksville), explore Dover, a Tennessee frontier town that reveals the value of serenity in river living.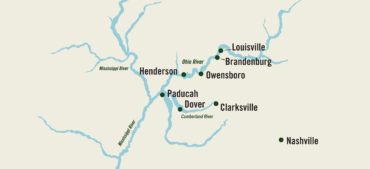 Features
Itinerary
Pricing
Deck Plans
Excursions
Go Beyond Programs
Features
2-night pre-cruise hotel stay

in Louisville at the historic The Brown Hotel

—with breakfast, coverage of taxes, porterage, and transfers to the American Countess
This two-night Louisville Pre-Cruise Program features a full-day Kentucky bourbon distillery tour including bourbon tasting, lunch, and private transportation. Distilleries to include Bardstown Distillery, Maker's Mark, and Stitzel-Weller Reserve
7-night voyage aboard the American Countess with all meals included 
$700 early booking savings per person, is not reflected in the prices below
Unlimited free shore excursions in port and with your comfort in mind, deluxe private motor coaches to get you there safely
Live entertainment and enrichment
Gracious service from a professionally trained staff
Luxury accommodations
Smart-casual attire—recommends dressing up for dinner
Unlimited WIFI
Casual to refined dining options
Menus inspired by America's heartland with fresh, locally sourced ingredients featuring freshly prepared lobster and USDA Prime Beef
Enjoy unlimited beverages and open bars & lounges
Round trip economy class airfare available for $499 per person (restrictions apply, call for details)
Itinerary
June 18:

Louisville, Kentucky - The Brown Hotel

June 19:

Louisville, Kentucky - The Brown Hotel

June 20:

Louisville, Kentucky - Embark

June 21:

Brandenburg, Kentucky

June 22:

Owensboro, Kentucky

June 23:

Henderson, Kentucky

June 24:

Paducah, Kentucky

June 25:

Dover, Tennessee

June 26:

Nashville (Clarksville), Tennessee

June 27:

Nashville (Clarksville), Tennessee - Disembark
Click here to view round trip air options for 499.00 per person >
Air Cities
scroll to see entire list
Atlanta, GA
Baltimore, MD
Boston, MA
Charlotte, NC
Dallas, TX
Denver. CO
Detroit, MI
Newark, NJ
Fort Lauderdale, FL
Intercontinental Houston, TX
John F. Kennedy New York, NY
LaGuardia New York, NY
Los Angeles, CA
Miami, FL
Minneapolis/St. Paul, MN
Midway Chicago, IL
Montreal, Quebec
O'Hare Chicago, IL
Phoenix, AZ
Philadelphia, PA
San Diego, CA
San Francisco, CA
Savannah, GA
Seattle, WA
Tampa, FL
Toronto, Ontario
Vancouver, British Columbia
Washington Dulles, VA
West Palm Beach, FL
Deck Plans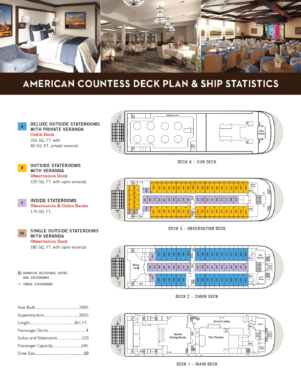 Download Deck Plans

More time and peace of mind. Don't just wave at your port city from the deck—extend your trip with an overnight land stay and city exploration. Spend more time with your feet on the ground and immerse yourself in local culture with engaging tours led by an expert travel guide. Let us handle the logistics of your airport transportation, luggage handling, and so much more, so you can worry less and go all in on your vacation.
INCLUDED LOUISVILLE BOURBON EXPERIENCE
Taste the spirit of the past, present, and future with a stay at the iconic Brown Hotel and a trek down the Bourbon Trail. Sip whiskey and
view beautiful acres of farmland as you journey through the advanced creations of Bardstown Distillery. Relish in the history and tradition of Maker's Mark, a distillery that is still hand turning their barrels and running business like they did in 1953. Then, savor the harmony made when the past and future collide on an exclusive tour of Stitzel-Weller distillery.
These tours are sure to enliven your tastebuds and enrich your trip.
TWO-NIGHT LOUISVILLE PRE-CRUISE PROGRAM FEATURES:
2-night hotel stay in Louisville at the historic The Brown Hotel with breakfast
A FULL-DAY KENTUCKY BOURBON DISTILLERY TOUR INCLUDING:

Bourbon tasting
Lunch
Private transportation to and from Distilleries:

Bardstown Distillery
Maker's Mark
Stitzel-Weller Reserve

Taxes, porterage, and transfers to the American Countess
Cancellation Policy
REFUNDS AND CANCELLATIONS:
If you change your plans or cancel, your rights to a refund are limited. Submit a written cancellation to
cancel@gonext.com
. Upon receipt of a written cancellation from you, the following fees will apply (as indicated in days prior to initial flight departure).
Cancellation Fees:
| | | |
| --- | --- | --- |
| 121 days or more | = | $250 per person |
| 120-91 days | = | 25% of total fare |
| 90-61 days | = | 50% of total fare |
| 60-31 days | = | 75% of total fare |
| 30-0 days | = | 100% of total fare |
Any requests for cancellation must be communicated to Go Next in writing. Applicable refunds, if any, will be made within 90 days after the cancellation. (Subject to change; refer to your brochure for current rates.)
Back to Destinations