ALASKA EXPEDITION WITH STATE-OF-THE-ART COMFORT
Intimately interact with and learn about the natural habitat of Alaska aboard this unique, innovative vessel with unrivaled views of the majestic surroundings. Ocean Victory offers a more quiet, comfortable cruising experience inside and features outside decks without the splash and spray. This ship can travel into the most fragile environments and allows unique access to some of the most beautiful, organic places. In addition, Ocean Victory does its part to maintain the places it visits by using the cleanest available fuel. This environmentally conscious vessel provides the highest quality service and accommodations, so you can experience the peace and comfort of your scenic experience.
Suites and Staterooms
The lavish, contemporary design of each stateroom provides the perfect atmosphere to relax and recharge. Each room is outfitted with designer amenities and a luxurious, private bath with a spacious shower. Slip on the complimentary, plush robe and slippers to enjoy a panoramic view of the landscape and unwind as you take in the natural beauty from the private balcony offered in most categories.
Service
Our attentive, friendly staff is ready to meet any need you may have while aboard the ship. The low guest to staff ratio ensures quality, personalized attention, and service, and the friendly purser will be available in the front lobby office to assist you with any guest relations needs.
Dining
The unique, diverse dining experiences aboard this vessel will satisfy any hunger with savory, local flavors. Regional specialties will be prepared daily, so you can experience the fresh, local flare. The main restaurant offers casual, fine dining with an enticing buffet for breakfast and lunch. For a more intimate dining experience, make dinner reservations in the panorama specialty restaurant that offers an array of delectable á la carte options and distinct tableside preparations. The floor-to-ceiling glass walls of the vibrant bistro offer a casual, open dining experience in any weather. Mingle with other guests or grab a quick coffee or cocktail at the Explorer bar and lounge, and while relaxing at the pool enjoy snacks and beverages from the pool bar.
Onboard Experiences
Indulge your mind, body, and soul as you enjoy the wide range of options for onboard entertainment while basking in nature's beauty. Replenish your soul with a swim in the elegant pool or a soak in the spacious hot tub. Observe the breathtaking scenery from the climate-controlled observation lounge or enhance your views from one of the Zodiac boats or the sliding overwater viewing platform. Engage your mind with the books and materials provided in the Voyager library or take in expert talks and lectures from the tiered seating in the Expedition Lecture Room. Treat your body to a workout in the fitness center or rejuvenate your body in the Ocean Spa with specialty massages, relaxing facials, and pampering manicures and pedicures. The expansive options aboard this ship give you the opportunity to treat and pamper your whole self.
Features
1-night pre-cruise hotel stay with FREE transfers between the hotel and vessel
Skillfully trained culinary team—locally focused, exceptional dining experiences
Unlimited beverages including wine, choice spirits, local craft beers and specialty coffees
Expert-led included shore excursions
Free Wi-Fi available on board
Spacious staterooms and suites, most with private balconies
Spacious pool deck with chaise lounges, pool, and spacious hot tub
Refrigerated minibar with unlimited complimentary soft drinks replenished daily
Personal robes and slippers
Premium mattresses
In-room electronic safe, individual climate control, and flat-screen television
Daily housekeeping with nightly turndown service
Intimate access to the natural surroundings
Enrichment programs, including expert lectures
Nightly entertainment
Zodiac embarkation and sliding overwater viewing platform
Download Brochure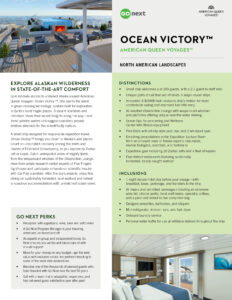 Deck Plans
Download Deck Plans
Staterooms
Cabin Type
Deck(s)
Suite Type
F
7
Stateroom with French Veranda
Stateroom with French Veranda
157-170 sq. ft.       

                                    

Stateroom with French Veranda

                                              
Private bath with spacious shower and beautiful finishes
Complimentary designer amenities
Large storage spaces for luggage, clothing, and personal items
Hairdryer
Mini refrigerator
Bathrobes and slippers
In-room safe
Onboard laundry service
Your personal water bottle for use at refillable stations throughout the ship
Panoramic view
E
4,6
Stateroom with Private Veranda
Stateroom with Private Veranda
221-260 sq. ft.                                            
Stateroom with Private Veranda
Private bath with spacious shower and beautiful finishes
Complimentary designer amenities
Large storage spaces for luggage, clothing, and personal items
Hairdryer
Mini refrigerator
Bathrobes and slippers
In-room safe
Onboard laundry service
Your personal water bottle for use at refillable stations throughout the ship
Panoramic view
C
4,6
Deluxe Stateroom with Private Veranda
Deluxe Stateroom with Private Veranda
213-264 sq. ft.                                         

Deluxe Stateroom with Private Veranda

Private bath with spacious shower and beautiful finishes 
Complimentary designer amenities
Large storage spaces for luggage, clothing, and personal items
Hairdryer
Mini refrigerator
Bathrobes and slippers
In-room safe
Onboard laundry service
Your personal water bottle for use at refillable stations throughout the ship
Panoramic view
BB
4,6
Suite with Private Veranda
Suite with Private Veranda
297-325 sq. ft.                                           

Suite with Private Veranda

Private bath with spacious shower and beautiful finishes
Complimentary designer amenities
Large storage spaces for luggage, clothing, and personal items
Hairdryer
Mini refrigerator
Bathrobes and slippers
In-room safe
Onboard laundry service
Your personal water bottle for use at refillable stations throughout the ship
Panoramic view
B
4
Suite with Private Veranda
Suite with Private Veranda
355-372 sq. ft.                                           
Suite with Private Veranda
Private bath with spacious shower and beautiful finishes
Complimentary designer amenities
Large storage spaces for luggage, clothing, and personal items
Hair dryer
Mini refrigerator
Bathrobes and slippers
In room safe
Onboard laundry service
Your personal water bottle for use at refillable stations throughout the ship
Panoramic view
A
7
Deluxe Suite with Private Veranda
Deluxe Suite with Private Veranda
445 sq. ft.                                                 
Deluxe Suite with Private Veranda
Private bath with spacious shower and beautiful finishes
Complimentary designer amenities
Large storage spaces for luggage, clothing, and personal items
Hairdryer
Mini refrigerator
Bathrobes and slippers
In room safe
Onboard laundry service
Your personal water bottle for use at refillable stations throughout the ship
Panoramic view
PS
4
Premium Suite with Private Veranda
Premium Suite with Private Veranda
465 sq. ft.           
Premium Suite with Private Veranda
Private bath with spacious shower and beautiful finishes
Complimentary designer amenities
Large storage spaces for luggage, clothing, and personal items
Hair dryer
Mini refrigerator
Bathrobes and slippers
In room safe
Onboard laundry service
Your personal water bottle for use at refillable stations throughout the ship
Panoramic view
Stateroom 
165-225 sq. ft.   
Private bath with spacious shower and beautiful finishes
Complimentary designer amenities
Large storage spaces for luggage, clothing, and personal items
Hairdryer
Mini refrigerator
Bathrobes and slippers
In-room safe
Onboard laundry service
Your personal water bottle for use at refillable stations throughout the ship
Panoramic view