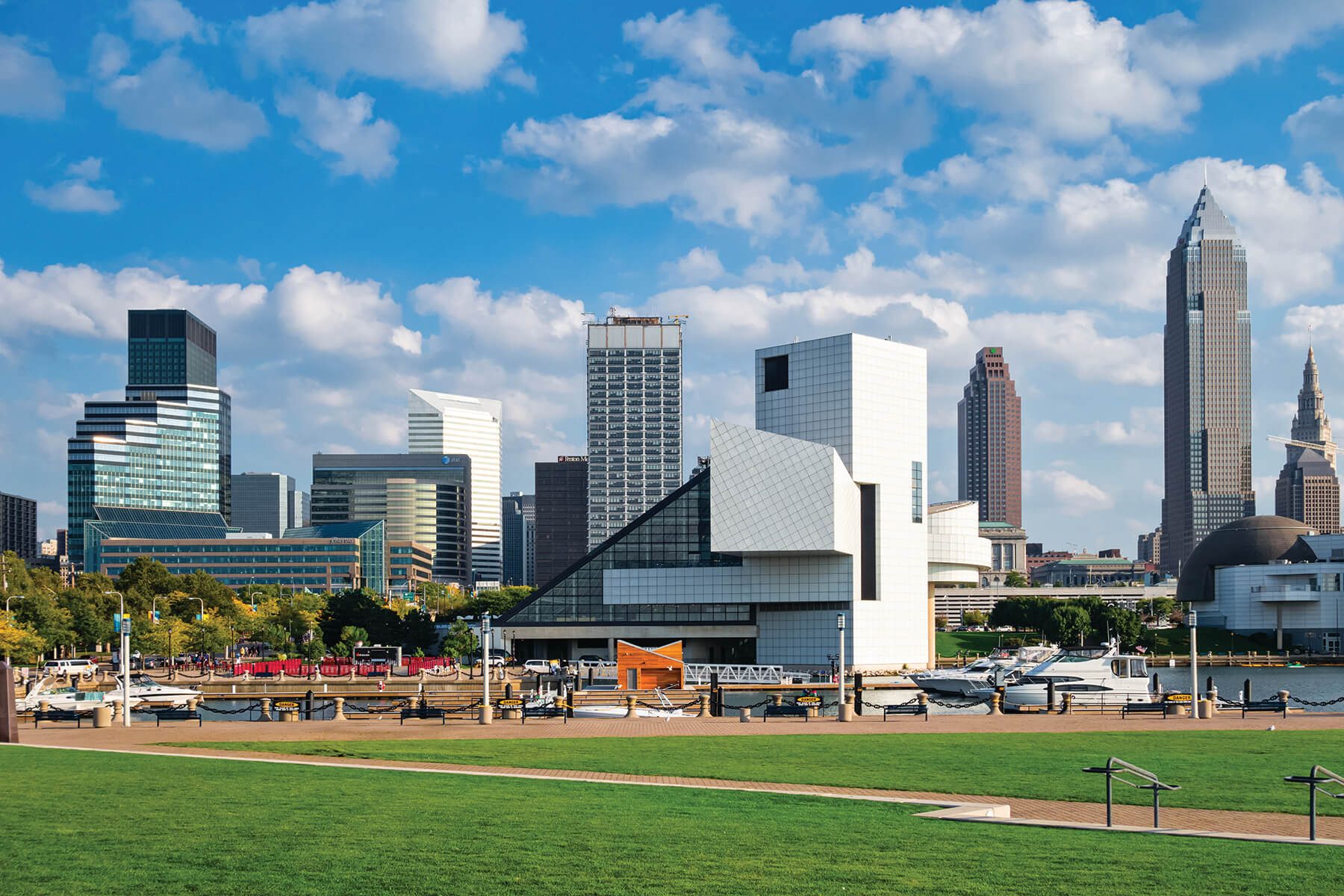 Seven Hidden Gems of Cleveland
October 01, 2018
If you've ever been to Cleveland you know that it's the epitome of the word resilient. Known for such things as the famous Rock and Roll Hall of Fame, being the home of the comic actor Drew Carey, and sticking by its oft-losing sports teams through thick and thin (see this article about the Browns Victory Fridges!), Cleveland's downtown sits on the southern shore of Lake Erie. Its divers neighborhoods spider out from the city's central skyline and each offers a different flavor of this Northeast Ohio city. All over Cleveland, there are shops, restaurants, and experiences that you might not expect if you're new to this lakeside metropolis. Here are just a few!
1. The Cleveland theater district: Playhouse Square
Many people don't know that Cleveland is home to the largest theater district outside of New York City. What is now officially named Playhouse Square was built in the early 1920s over the course of just 19 months. All but one of the buildings closed in the late 60s after fire and vandalism struck Euclid Avenue, but the people of the city couldn't let this now-iconic district fall into decay. They roused up a grassroots effort to renovate and reopen the buildings, and in 1978 Playhouse Square was put on the National Register of Historic Places. Today, the theater district is comprised of ten separate buildings and brings in more than a million visitors every year. In the square, you can see classic productions like Mamma Mia! and Les Miserables, plays like The Taming of the Shrew, and smaller concerts and comedy performances.
2. Forest City Shuffleboard
Shuffleboard isn't just for Saturday nights in the church basement. Opened in 2017, this shuffleboard bar, outfitted with high school gymnasium memorabilia, is a fun place to unwind, push some discs, and enjoy a pint or two of local lager. Indoor there are five courts, and on the outdoor patio there are two more, along with two regulation tables. Rumor has it the courts can get a little busy on weekend nights, but Forest City Shuffleboard also has a full menu with cocktails and craft beers, and they partner with local chefs and businesses to offer a rotating menu of in-season eats. Relive your varsity days under the scoreboard inside. You don't have to be good. You just have to show up and have fun!

3. The West Side Market
This particular location might not be so "hidden," since it has been featured on the Travel Channel and the Food Network, but it's still a Cleveland must-see. The West Side Market in Cleveland's Ohio City neighborhood is the oldest continually operating indoor/outdoor market in the city. The original site of the marketplace was across the street, but in 1912 they outgrew that building and relocated to their present one: a Byzantine, neo-classic building with a lofty clock tower and inside, Guastavino tile vaulted ceilings. The market is now home to over 100 vendors and is on the National Registry of Historic Places. At the market, you can shop for crispy baguettes, fresh-made cheeses, in-season produce, pastries, meats, and more. It's a food lover's paradise.
4. Brewnuts
Do you like donuts? Do you like beer? Good news—you don't have to choose between the two at Brewnuts, a "donut bar" with, reportedly, the best donuts in Cleveland. These hand-made donuts are baked with a special ingredient: craft beer! But don't worry. All of the alcohol gets cooked off during the baking process, so you can eat as many as you want. The bakery also serves a selection of 16 local brews on tap, many of which they use during their baking process.
5. Melt Bar and Grilled
The idea of opening up a gourmet grilled cheese sandwich shop might sound a little wild, but that's exactly what Matt Fish and a small troupe of devoted beer and cheese lovers did in 2006. What started as a small bar featuring craft beers quickly turned into an overnight sensation after they started making extravagant grilled cheese sandwiches like the "Parmageddon," which has pierogis inside the sandwich. Thirteen years later, Melt Bar and Grilled has ten official Ohio-based locations and three satellite locations, including one at Cedar Point (America's Roller Coast) in Sandusky, Ohio. These sandwiches aren't just a meal, they say. They're an experience.
6. Great Lakes Brewing
Cleveland hosts too many craft and microbreweries to name them all, so we'll just focus on their first and perhaps one of the best: Great Lakes Brewing. This microbrewery opened in 1988, and most of their beers' names come from the history of Cleveland, like the Edmund Fitzgerald Porter, the Commodore Perry IPA, and the Burning River Pale Ale. They have eight year-round beers and a selection of ten rotating seasonal beers, including their famous Christmas Ale. Their opening helped revitalize the neighborhood of Ohio City, which is now a hub for restaurants, shopping, and parks. Inside Great Lakes there's ample seating, a Tiger Mahogany bar from the 1860s, a gift shop, and the notable Rockefeller Room, named after John D. Rockefeller, who is said to have worked in the building. If you're unable to make it into Great Lakes while you're in Cleveland, look for their beers in your hometown; they distribute to most of the Midwest, as well as some of the East Coast.
7. The Tremont neighborhood
Cleveland has fourteen neighborhoods and each one provides a different flavor of the city. Tremont is just south of downtown and has lots to see, eat, and explore. The feel of this neighborhood is artsy and welcoming—a good place to stroll the cracked, winding sidewalks in search of a coffee shop or a boutique. Tremont used to be home to the short-lived Cleveland University, which awarded only eleven degrees during its two years of operation, but you can still find reminders of its time there. Walk down Professor Avenue and you'll find a barrage of intimate art galleries. Tremont is also a haven for foodies. Check out Crust, a hand-tossed pizza restaurant, or Sokolowski's University Inn, a cafeteria-style eatery with traditional Polish noshes. And if you're anything of a movie buff, drive by the notorious house from A Christmas Story, which is now a museum decorated to look—inside and out—just like the home from the film. Leg lamp and all.