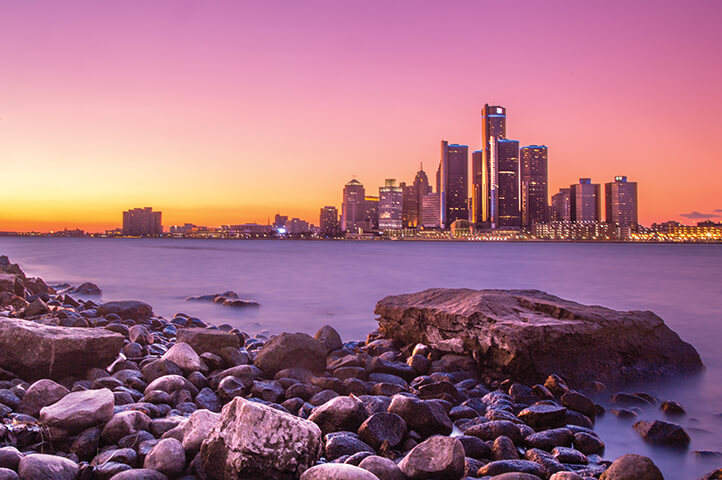 The Motor City Gets a Tune-Up: The Artistic Resurgence of Detroit
October 08, 2018
If you haven't been hiding under a rock, then you know that Detroit was hit pretty hard after the decline of the auto industry. Its population fell, and the city struggled for decades until it filed the largest municipal bankruptcy case in US history in 2013. But five years later, Detroit is on the up and up. It's experiencing a sort of renaissance—an artistic and cultural resurgence that has even landed it on Lonely Planet's top ten list of places to travel in 2018. Detroit, once known for its vacant homes and thousands of foreclosures, is now enjoying an uptick in tourism due to its blossoming arts, music, and culinary scenes as well as the community revitalization efforts permeating the city.
The arts scene in Detroit is thriving today. Naturally, the Contemporary Art Institute of Detroit (CAID), the Detroit Institute of Arts, and the Museum of Contemporary Art Detroit (MOCAD) boast impressive collections that draw thousands of visitors each year. But an exhibit that speaks more to the spirit of reinvention of this city is the Heidelberg Project in the McDougall-Hunt neighborhood. In 1986, Tyree Guyton and his grandfather took to Heidelberg Street with brooms and dustpans and started a decades-long fight to rejuvenate a crumbling neighborhood. The Heidelberg Project utilizes vacant lots and found objects to turn the area, its streets, and even sometimes its residents (!) into art installations. The mission of the organization is to "improve the lives of people and neighborhoods through art." For the past twenty-two years, this sometimes-controversial project has been attracting visitors from all over the world.
Another way to see local art in action is to head to the Eastern Market, not far from downtown. The market is open every Saturday year-round, where you can go to buy in-season produce, seafood and meat, and local delicacies. But on Sundays during the summer months, they host a special arts market that features local artists, chefs, jewelers, musicians, and more. You can also stroll through the warehouse district and check out the murals scattered throughout the neighborhood for a taste of Detroit's creative energy.
Of course you can't talk about Detroit without talking about music. This city invented Motown and techno, has deep roots in rock, jazz, blues, hip hop, and punk, and is the home of hundreds of famous bands, singers, and songwriters including Eminem, The Temptations, The White Stripes, and Aretha Franklin. There are dozens of great places to see live music in Detroit, ranging from cozy indoor jazz clubs to palatial theaters to basement rock n' roll venues. You're almost guaranteed to be able to see music any night of the week if that's your jam. And on top of that, Detroit is home to the yearly Movement Electronic Music Festival—a hootenanny that occurs every Memorial Day weekend celebrating the city's hand in the invention of techno. The festival draws tens of thousands of attendees annually.
Detroit's culinary arts deserve a special shout out, too. There are lots of restaurants—old staples as well as up-and-coming eateries—to check out. No matter what you like, there's something for everyone; from food trucks to farmers markets, gastro pubs to gourmet, hot dog diners to haute cuisine. Many of the restaurants around town serve Michigan-brewed craft beers or use locally-sourced, in-season produce, like Parks & Rec Diner. This little gem is housed in the renovated Grand Army of the Republics (GAR) castle on Grand River Avenue. And when I say "little gem," I do mean little. They seat only 34 guests, so show up early if you're planning on breakfast. Their tagline, "Brunchin' in a Castle 7 Days a Week," is no joke. The GAR is a Romanesque-building that looks like an actual castle, and was renovated and reopened in 2014. Parks & Rec just does breakfast and brunch, but makes boozy drinks from open 'til close. They've even been featured in the New York Times and Buzzfeed.
The Grand Army of the Republics castle is just one example of the many ways that Detroit has found to revitalize and repurpose its vacant, foreclosed, and abandoned buildings. For instance, what was left of an old fire station was turned into the Foundation Hotel Detroit, a boutique hotel that opened in 2017, which still showcases some of the building's original marble, flooring, and brick. The Grand Trunk Pub is a bar and grill with a well-rounded menu, craft cocktails and beer, and is located in the old Grand Trunk Railroad station—an elaborately ornate 1900s era building with vaulted ceilings and brass chandeliers. Perhaps one of the most interesting repurposings is the office and headquarters of the company dPOP, a workplace interior design company that put their money where their mouth is when they decided to renovate the old Dime Savings Bank for their offices. One of their conference rooms is located in the bank's old vault, and another is in one of the bank's large safes.
It's no wonder Detroit is often referred to as the comeback capital of the world. The city and its inhabitants have proved again and again that they're hearty and not willing to give up on Detroit so easily. This is seen all over the city, like in its grants to revitalize the walking and biking conditions and install public art exhibits, green spaces, and community spaces. Detroit is clearly a city of unity and reinvention, and if you haven't already, you should definitely put it on your list of top ten places to visit—maybe in 2019.