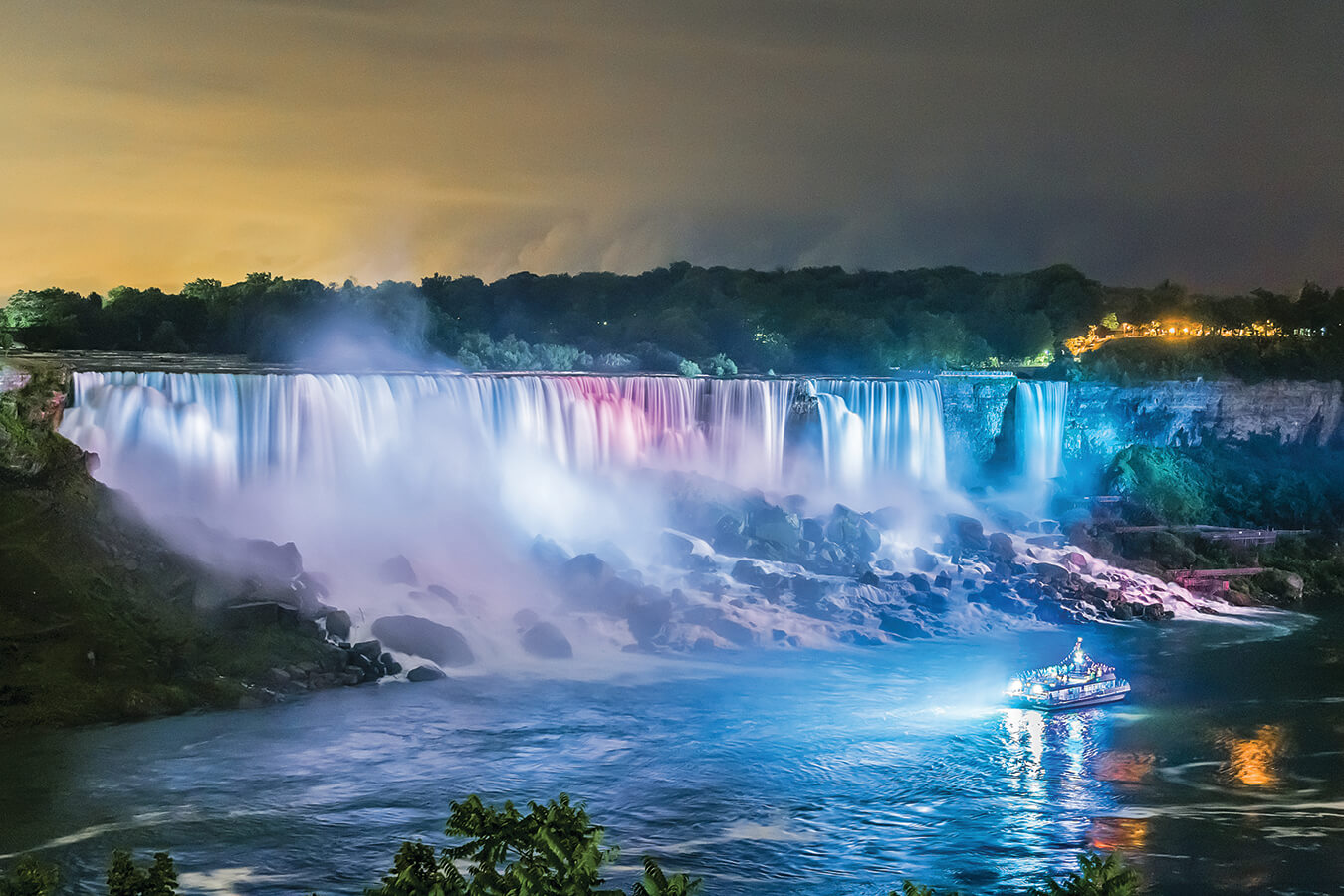 Going Over Niagara: Six Tales of Daredevils
October 23, 2018
Niagara Falls is one of the biggest waterfalls in the world. Actually, it's three separate waterfalls: the Horseshoe, American, and Bridal Veil Falls. The Horseshoe Falls are on the Canadian side, and they're the largest. 681,750 gallons of water tumble from its mouth every second, and that water hits the base with 2,509 tons of force. So while Niagara may not clock in as the widest or longest waterfall, it packs an enormous punch. To say it would be dangerous to send yourself over Niagara Falls would be, well, an understatement. In fact, there are laws against it. If you choose to plummet and survive, you can face up to a $25,000 fine and jail time. But people have been drawn to the danger of the falls for more than a century. Here are just a few of the brave souls who have dared (or been forced!) to make the plunge.
1. Annie Edson Taylor
Annie is probably the most famous person to have survived a trip over the falls, and for good reason: she was the first. In 1901, Annie was a sixty-three-year-old widow hoping to earn some money and fame. So she did what any incredibly sane person would do. She built an air-tight barrel, climbed in, and tipped over Horseshoe Falls. Two attendants let her out of a boat some way up the Niagara River, and it took her fifteen minutes to float down to the mouth of the falls. When she emerged on the other side, the crowd was unsure what they might find inside that barrel. They opened it and a bystander exclaimed, "My God! She's alive!" She had a three-inch cut on her head, but Annie was conscious and emerged in otherwise perfect condition. Still, her advice to would-be daredevils is this: "Don't try it."
2. A ship full of animals
Perhaps one of the most ill-conceived tourism events of all time was held at Niagara Falls in 1827. William Forsyth was the owner of the Pavillion Hotel, and with the help of two other local hotel owners, he came up with a brilliant idea: let's buy a condemned schooner, fill it up with animals, and send it over a humongous waterfall. And they did just that. Accounts from that day note that there were upwards of 10,000 people in attendance. Forsyth and friends filled the boat with two bears, two raccoons, a dog, a buffalo, and a goose. Some witnesses also recorded having seen two foxes, an eagle, and fourteen additional geese in the ship, which was named The Michigan. It was decorated in a pirate fashion and festooned with some dummies to make it even more festive. After the doomed Noah's Ark set sail, the two bears absconded and swam to safety before the ship lurched over the falls. A lone goose survived.
3. Roger Woodward
Roger was only seven years old in 1960 when he went over the falls in nothing but a life jacket. He and his sister Deanne were taken for a boat ride by a family friend, Jim Honeycutt, when their boat experienced engine problems, took on water, and capsized. Jim wasn't so lucky, but people still tell the story of Roger and his sister. Deanne thankfully never made it over the falls—she was rescued by two New Jersey bystanders who roped arms, grabbed her, and pulled her to shore. But Roger was swept up by the current and taken right over. He explained later that he felt a whole gamut of emotions before his descent. First, of course, he felt terror. Then he felt angry that there were so many people on shore but nobody was coming out to rescue him. Ultimately, he said, he felt peace, and he thought about his meager seven years—his family, his dog, his toys—and then he went over the edge. But he bobbed up like a little buoy! Roger was rescued just minutes later by the captain of the Maid of the Mist. He had no injuries.
4. Kirk Jones
Over the years, many people have gone over Niagara Falls without any safety devices, but hardly any of them have lived to tell the tale. In 2003, Kirk Jones was the first. Unlike Roger Woodward, Jones wasn't even wearing a life jacket. He described his decision as impulsive. "In a second and a half, I was in the water," he said. But the truth is, he had been thinking about doing it for weeks. He talked about it with his family and even had a buddy along to record the whole escapade on a video camera. When Jones crawled out of the water and onto the banks, he threw his arms into the air victoriously, and the crowd cheered. Police showed up and arrested him. He gained momentary fame: he was interviewed by Diane Sawyer and even met Alice Cooper. He went through a stint as a stuntman in the circus. But ultimately, people forgot about him, and he perished in a second attempt to conquer the falls inside a gigantic rubber ball with his pet Misty, a seven-foot-long boa constrictor.
5. William Fitzgerald ("Nathan Boya")
A man claiming to be Nathan Boya actually turned out to be named William Fitzgerald, and he went over the falls in the summer of 1961. Reports differ on the reasons he went over Niagara, but one thing is for sure: he wasn't looking for fame or fortune. Some say that he was trying to impress a woman, and others say that he was trying to make up to a woman he had wronged. Other accounts say that plunging over the falls was just something he became obsessed with and "had to do." He built a contraption that he called the "Plunge-O-Sphere," a six-foot ball made of rubber and metal. He hit a rock on impact and bounced, denting the ball, but otherwise remained unharmed. Fitzgerald was the first person to be fined for tumbling over Niagara Falls—$100.
6. Bobby Leach
Bobby was an English stuntman, well known for performing dangerous feats like swimming through rapids and parachuting from bridges. He was the second person to go over the falls in a barrel and the first man to make the trip. In 1911, he climbed into an eight-foot-long steel barrel and made the same trip that Annie Taylor did just ten years before, though he didn't fare as well. Leach survived, but he broke both of his kneecaps and fractured his jaw. He also suffered other minor scrapes and bruises, and he spent the next six months in the hospital recuperating. When he was well enough, he went back to stunting and even toured Vaudeville for a time. In the end, the great stuntman was taken down by an orange peel. He stepped on it and slipped while walking in New Zealand and broke his leg. Eventually, it became infected and needed to be amputated. He developed gangrene and died.
There is something about Niagara Falls that has been drawing people to it (and into it) for centuries. It makes me think of the Caspar David Friedrich painting, The Monk by the Sea. In it, a slight robed figure stands in the forefront of a towering, ominous wall of blue-grey mist. This sea could be seen as deadly. As petrifying. And yet, as essayist Amy Leach comments, the painting is not called The Monk Running Away from the Sea. She writes that "while he is painted with his back to the observer, it is conceivable that he is not standing there screaming. Nature has another power besides the power to terrify." Nature has the power to captivate us.