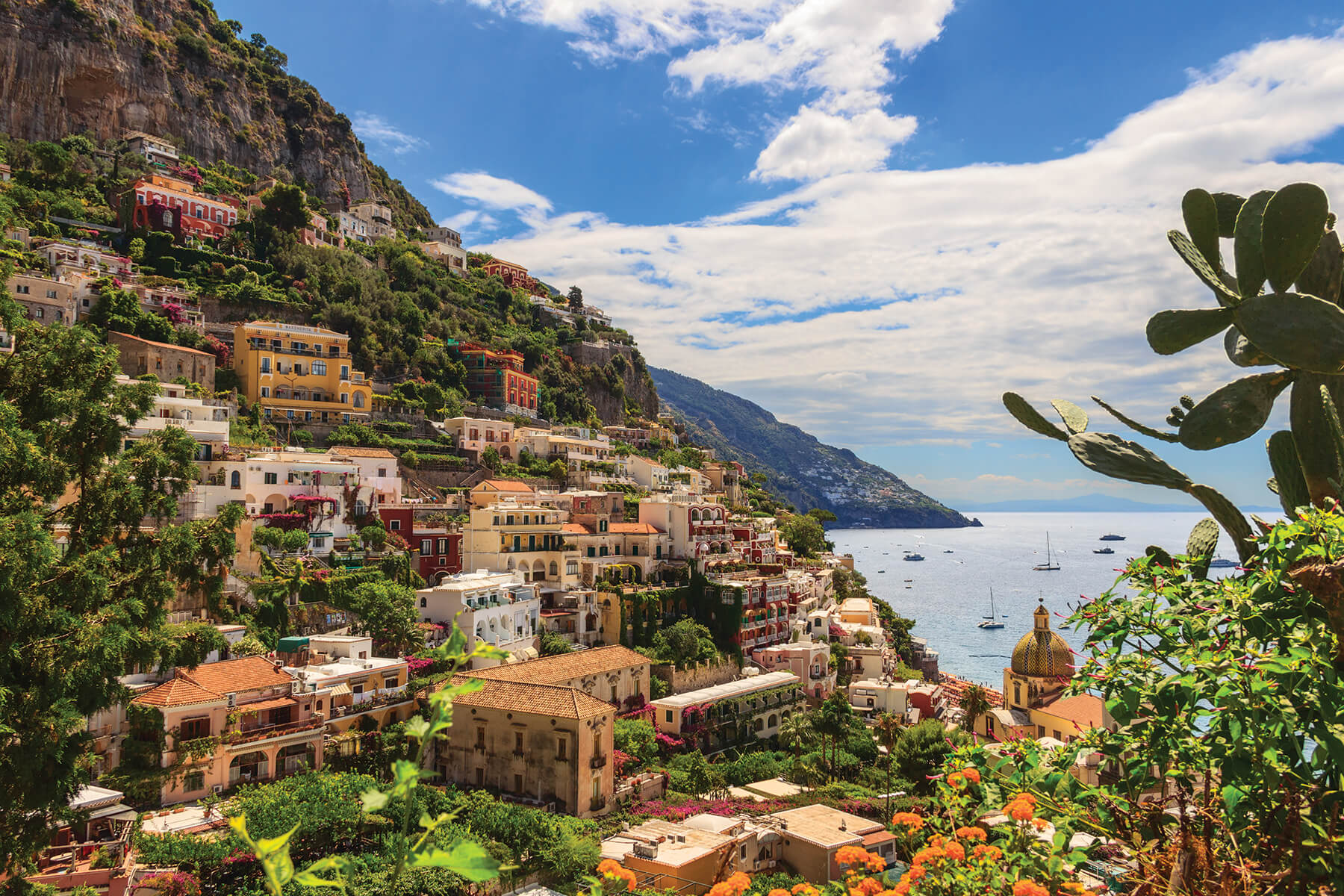 Posi-tively Stunning: The Amalfi Coast at a Glance
December 13, 2018
The Amalfi Coast is one of the most iconic coastlines the world over—a thirty-mile balcony of homes jutting out precariously over the Tyrrhenian Sea; small terracotta towns, set dramatically against a backdrop of mountains. It almost seems unreal. Here are a few interesting things about the region to inspire you to visit, or to give you a reason to go back. (As if you needed one!)
Lemons
The Amalfi region is known worldwide for its lemons. When you visit, be sure to try a lemon-flavored dessert or dish, or try some limoncello, the lemon-flavored liqueur that the region is famous for. Lemon is used in various kinds of fare in Amalfi—not just sweets and treats. Try a lemon risotto or bruschetta. And don't be surprised if you see a lemon that's as big as your head! That's just the cedro citron.
Positano
There is dispute over where the city of Positano gets its name. Some say that the region is named after Poseidon, the god of the sea. But there is another, more interesting story that others purport is the real version of the truth. Legend has it, a pirate ship was hightailing it out of Byzantium with some plundered loot, including a painting of the Black Madonna which now hangs in the Church of Santa Maria Assunta. When the ship was just off shore, a storm suddenly hit and the seas began to rage. According to the story, the Madonna called out "Posa, posa!" which means "put me down." The ship then sailed back safely into harbor. They left the painting with the local people, who kept it and took Positano as the name of their home.
The Big Screen
With its color-splashed terracotta homes on cliffs sloping into the sea, the Amalfi Coast is one of the most beautiful—and iconic—places in Italy. So it's no wonder that it's been featured in loads of blockbuster movies. If you're looking for some good Italian inspiration, check out 2004's A Good Woman, starring Scarlett Johansson and Helen Hunt, 1953's Beat the Devil, starring Humphrey Bogart, Jennifer Jones, and Gina Lollobrigida, or 2003's Under the Tuscan Sun, starring Diane Lane, Sandra Oh, and Raoul Bova. But you've been warned: be prepared to get a serious case of wanderlust.
John Steinbeck
John Steinbeck famously wrote a longform article, published in Harper's in 1953, in praise of Positano. In it, he describes staying in Le Sirenuse, a hotel which is still in operation today. He describes the people, history, and landscape of the small coastal town. He writes, "Positano bites deep. It is a dream place that isn't quite real when you are there and becomes beckoningly real after you have gone."
Artists and Writers
Steinbeck isn't the only famous person who has been drawn to the Amalfi Coast. The region has been attracting artists, writers, and jet-setters for decades. Pablo Picasso and Igor Stravinksy are said to have stayed there and drawn inspiration from its shores. Jacqueline Kennedy and Elizabeth Taylor both vacationed on the Amalfi Coast, and in more recent days, it's become somewhat of a celebrity hotspot. People have snapped photos of Madonna, Justin Timberlake, Will Smith, Gweneth Paltrow, Beyoncé, and Hugh Jackman lounging on the sands of Positano and Amalfi.
UNESCO World Heritage Site
In 1997, the entire Amalfi Coast was deemed a UNESCO World Heritage site. The committee made the decision based on the region's incredible example of Mediterranean landscape combined with its natural beauty and cultural and historical significance. Materials have been found in Positano dating back to Paleolithic and Mesolithic time periods. The Amalfi region was also favored by the Romans. In the Middle Ages, the region was intensively settled. Today, it's filled to the brim with things to discover and see.