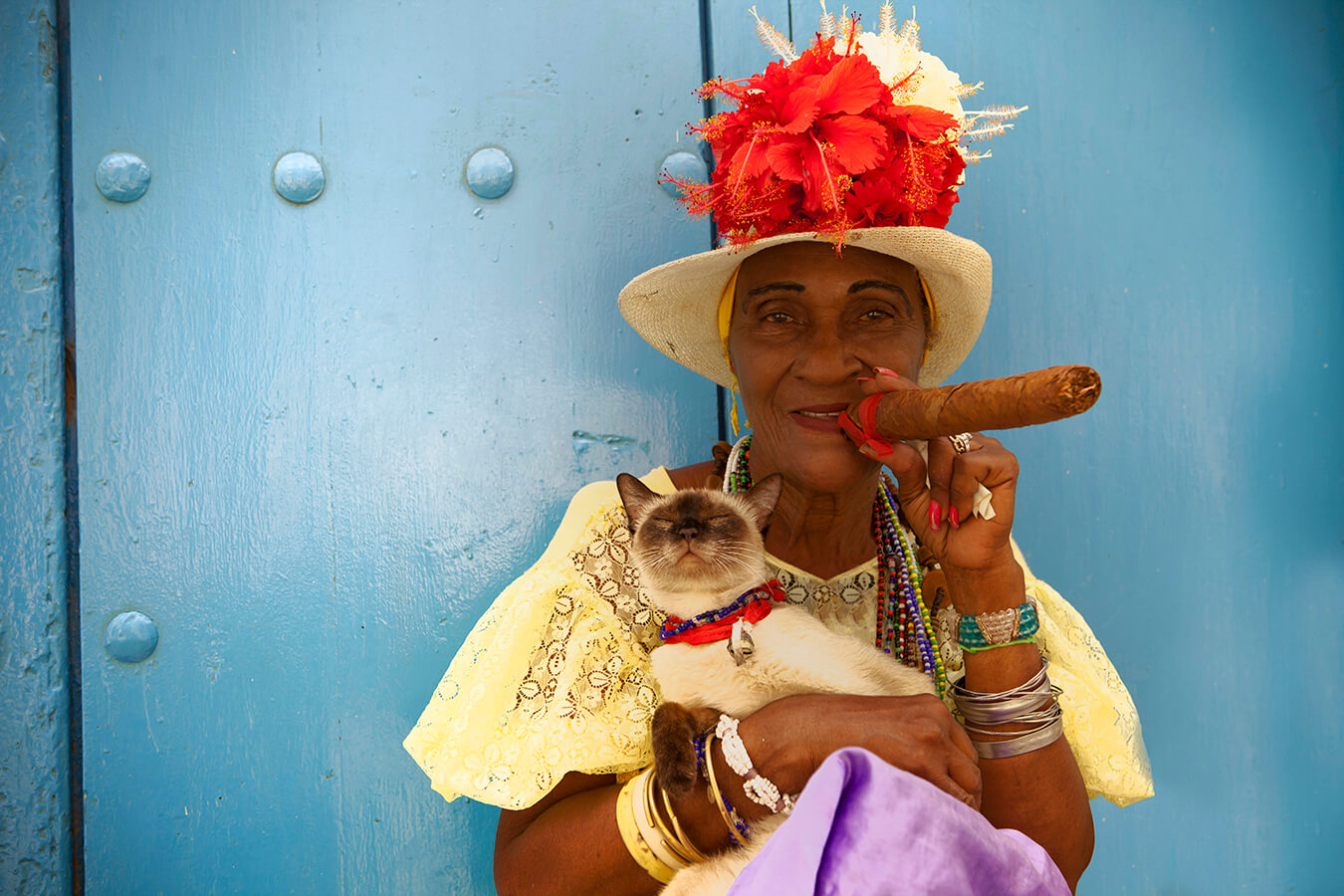 Know Before You Go: Cigars and Rum in Cuba
January 04, 2019
If purchasing Cuban cigars or rum is a priority for you on your Cuba trip, welcome to the club. Cuban cigars and rum are known the world over for their superior quality—true prestige products and must-buys for many Cuba travelers. And now that citizens of the United States can purchase and bring back cigars and rum for personal consumption with no limit other than the space in their personal luggage, you too can share these delicacies as you recount your travels with friends back home (note: selling your Cuban cigars and rum in the U.S. still is illegal). There are plenty of resources for you to learn the nitty gritty details about these formerly restricted souvenirs, but we've assembled some basics to pique your interest.
CUBAN CIGARS

What makes Cuban cigars so special? The Pinar del Rio region in the far west of Cuba is recognized as the world's prime tobacco-growing location, with farming methods passed down for generations. The variables that affect the tobacco plant—climate, soil, topography, surrounding plants, and even the human hand—are known as terroir. The terroir can vary quite a bit, even between neighboring tobacco growers, but the island's climate generally provides the perfect conditions to cultivate, cure, and ferment the highest quality tobacco. You can visit farmers in the Pinar del Rio region's Viñales Valley to witness firsthand their time-honored methods of growing tobacco and rolling cigars.
How do I buy them? Although you will no doubt be approached on the street with an irresistible offer, do not buy cigars from a street vendor. Cuba has outlawed selling cigars on the street and counterfeits of the quality Cuban brands are rampant. (And really, what is the point if you don't get the authentic experience?) If you are a first-time buyer searching for Cuban cigars in Havana, Cigar Aficionado's cigar shopper's paradise, you can find your souvenir cigars in official La Casa del Habano (LCDH; The House of Havanas) locations around the city and cigar shops located in reputable hotels. Here are a few recently recommended places to buy Cuban cigars to get you started.

What should I know about smoking Cuban cigars? Although there are many flavors and strengths to choose from, the Cuban cigar's reputation is built on its characteristic robust and complex flavor. Spicy, earthy, woody, herbal, pepper, honey, cocoa—the descriptors are in fierce competition to engage your taste buds. Aficionados recommend novices begin with a milder product than the signature Cuban cigar, working up to a stronger cigar over time to better understand the experience. A cigar shop presents a unique opportunity to speak with locals for help choosing what to buy. Meanwhile, check out these suggestions for starters.
CUBAN RUM

What is the Cuban difference when it comes to rum? Cuba has its own style of rum that is often described as lighter and crisper, with a distinctive low maximum bottling strength of 45 percent ABV. Some claim that Cuban rum's terroir—Cuba's fertile earth and sunny skies in a bottle, quite literally—guarantees that there will be no other place that can quite replicate the taste of Cuban rum. Others dispute this, asserting that the distillation process eliminates territorial differences affecting the sugarcane plant's phenotype (and the taste of the rum). What is known is that all rum in Cuba derives from Cuban sugarcane, by government decree, and so the authenticity of Cuban flavor is in the definition. The production process is also specific to Cuba. Cuba has acquired the Denominación de Origen Protegida (DOP) or "Protected Designation of Origin" for its rum products, which guarantees that Cuban rum production strictly adheres to Cuba's regional methods. This means that the type of barrel, the "column" distillation technique, the aging times, the blending of rum bases, and the charcoal filtering process will result in a rum like no other in the world.
I can buy Cuban Havana Club rum in the United States, can't I? You may have seen the iconic Havana Club brand of rum available in the United States, adding to the confusion about the Cuban embargo. In fact, "Havana Club" is the name of two very different brands. The Cuban version of Havana Club rum is produced by the state-owned Cuba Ron Company S.A. The brand name is lifted from the disenfranchised Arechabala family and the spirit is now exported in partnership with the French Pernod Ricard (but not to the United States!). As with all state-run rum production in Cuba, all of the sugarcane used to make this rum is from Cuba. The Bacardi company makes another product branded "Havana Club" that is widely available in the United States. With its headquarters in Bermuda and production in Puerto Rico, Barcardi's version of the brand has a fascinating history of revolution, betrayal, and international trade disputes, but not much connection to Cuban sugarcane or regulated production methods these days.

Tell me more about Ernest Hemingway and Cuban rum! If you are a fan of Ernest Hemingway, you probably know about his excessive love for his Havana home and his potent drinking habit. These two passions are famously joined in his love for the rum-based daiquiri. How, you ask, was Hemingway a (frequent) daiquiri drinker if he was a diabetic who couldn't tolerate the sugar in a traditional daiquiri? Answer: a Hemingway daiquiri contains light rum, lime and grapefruit juices, and maraschino liqueur—but no added sugar. In Havana, you can imbibe like Papa at the immensely popular El Floridita bar, where you can order up the Hemingway and perhaps raise a glass next to his life-size bronze statue at the end of the bar.
So what brand of rum should I buy? If you know you're ready to purchase, Town & Country has a listing of rums to bring back from your next Cuban adventure.