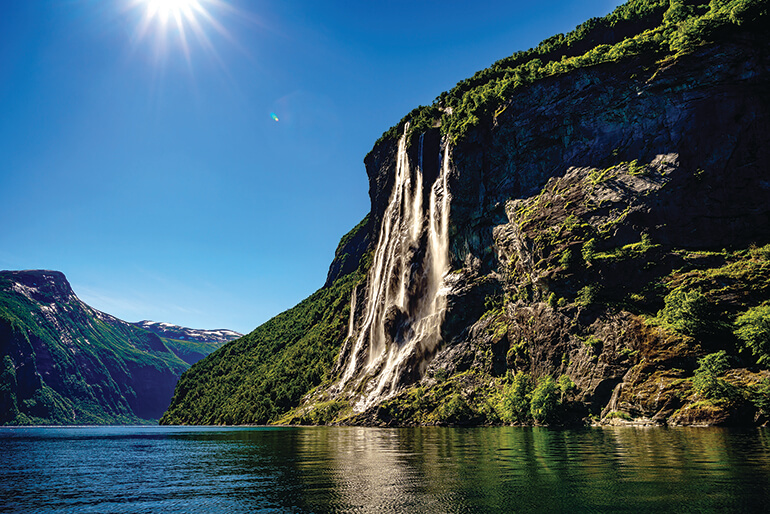 Five Reasons to Cruise the Fjords of Norway
July 26, 2019
Norway is one of the most beautiful places in the world, and it's growing in popularity as a vacation destination thanks to its majestic fjords. In Norway, there are over a thousand fjords, formed during the ice age, which have remained largely unchanged since that time. So you want to visit—why wait? Here are five reasons you should visit Norway, and why a cruise is the best way to do it.
The history is out of this world
First thing first: if you're visiting the fjords, you should know that the UNESCO World Heritage committee included the western fjords of Norway on the list of World Heritage sites in 2005. Geirangerfjord and Nærøyfjord and the surrounding areas were inducted based on their striking natural beauty, including their sheer crystalline rock ledges that can rise more than 4,500 feet out of the water. Dramatic scenery aside, fjord country is filled with historic buildings, folklore museums, and remnants from Viking settlements. In Haugesund, you can visit Avaldsnes Viking Farm, and in Bergen, you can see Bryggen, a series of colorful wooden houses on Bergen Harbor that originated during Hanseatic times, which has been a UNESCO World Heritage site since 1979.

Norway is a nature lover's dream
When you're cruising Norway, everywhere you look there's another stunning tableau. Some of the world's most incredible views are available from these fjords. From Stavanger, you can travel up to Preikestolen, otherwise known as Pulpit Rock, for a panoramic view from almost 2,000 feet above the water. In Flåm, hop on the railway that winds up through the mountain pass and takes visitors up to nearly 3,000 feet above sea level. The train makes frequent stops, including one at the Kjosfossen waterfall, where you can see a traditional folk dance performed by a nymphic Huldra. And speaking of waterfalls, Norway's fjords are filled with them. Some of the most dazzling are in Geirangerfjord, famous for its Seven Sisters Waterfall—a grouping of seven separate streams, the tallest of which plummets from 820 feet.
There's something for everyone
Whether you've come to Norway to enjoy the peace and quiet, or you're more active and you want to experience the outdoors up close, fjord country offers something for every traveler. It's easy to book tours with expert guides who can lead you on a glacier walk, mountain hike, or paddleboarding trip. If fishing is your thing, there are loads of opportunities to cast your line. From history buffs to bird watchers, everyone is bound to find something to love here. And the bigger cities like Ålesund, Trondheim, and Bergen boast exceptional restaurants and museums. But if you'd rather just kick back and take in the scenery… well, the view isn't too shabby either. To see some of our favorite places, or if you need a little inspiration, check out the photos in this Conde Nast article—they'll make you want to book your ticket today!
The sights come to you
When you decide to visit Norway via cruise ship, one boon is that each new destination comes right to you every morning. On our Fjords of Norway cruise, you'll travel from Oslo all the way up to Bodø, and you'll only have to unpack once! Another great thing about traveling through the fjords of Norway on a cruise ship is that your cruise line can organize trips for passengers to get to those hard-to-reach places, so you don't have to worry about logistics. A lot of important information will be at your fingertips, so you'll know the best places to go and all the must-see destinations.
Norway is one of the happiest places on Earth
Norway is consistently ranked as one of the world's happiest countries according to the World Happiness Report. And with scenery like you find in fjord country, how can you be surprised?
If you're all set to book your passage to the northern fjords, we're ready to help you get there! The twelve-night Fjords of Norway cruise leaves July 15, 2020. All aboard!