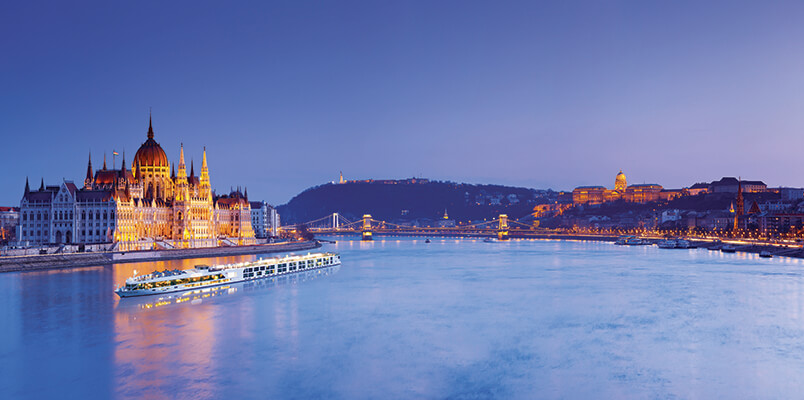 Hello Scenic Cruises! Four Big Reasons Our River Cruising Partner Is the Absolute Best
August 23, 2019
You, savvy traveler, may already know the advantages of river cruising in Europe, but let's recap anyway:
On a river cruise, your travel time is your vacation time. Wherever you go, there you are, as the saying goes. Just relax on your balcony or walk along the deck and watch the sights—hilltop Gothic castles, ancient terraced vineyards, soaring cathedral spires!—come to you.
River towns are historic towns. Where trade and transportation happen, that's where you'll find significant cultural centers worth your precious vacation time. Go Next's river cruise itineraries on the Rhine and the Danube Rivers get you to the places that made Europe what it is today.
Unpack once. Travel as long as the river you're on without wrinkling your shirts or forgetting the toothpaste.
Why Go Next + Scenic Cruises?
Given the advantages and popularity of river cruising, especially Go Next's chosen itineraries on the Rhine and Danube Rivers, it stands to reason that there are a lot of river cruise companies to choose from. We had our pick, but we chose Scenic Cruises as our trusted partner. We're inspired by the company's vision and ingenuity, and we loved that they had something new to offer our guests.
Here's why you should get to know and love Scenic Cruises, too:
1. Scenic Cruises' All-Inclusive Promise Means All-Inclusive
Our guests' favorite thing about Scenic Cruises—hands down—is the value and worry-free nature of their "all-inclusive" promise. You won't see "however," "some of," or "except for" here in the credit card-free zone. Check out River Cruise Advisor's comparison chart of river cruise companies, which we love to share because Scenic Cruises is the clear winner. In addition to five-star dining in six venues, highlights include:
24/7 premium spirits, curated regional wines, and a minibar restocked daily
All gratuities, on board and ashore
A variety of daily excursions, immersive experiences, and exclusive activities to choose from—with no extra charges for "premium"
Service and river cruising guarantees protect your investment
And so much more
So don't worry if you're new to river cruising. Or Europe. Or tipping in foreign countries, for that matter. When it's easy to budget, it's easy to travel.
2. Scenic Cruises Dares to Be Different
Here at Go Next, we emphasize going the extra mile for our guests. So, we made a deliberate choice to find a river cruise partner with something new to offer—and Scenic Cruises wowed us with their drive to be different. From the company's leadership on down, the innovation, personal attention, and commitment to guest satisfaction stands out from the pack.
3. Scenic Cruises' Carefree Service—This Time It's Personal
As if that weren't enough, Scenic Cruises offers a private butler for every suite and stateroom. Expect ironed shirts, your coffee order delivered each morning, and shoes shined to a mirror finish. The staff-to-guest ratio on Scenic Cruises vessels is 1:3, so you know that there are always helpful, friendly staff to get you whatever you need.
4. Scenic Cruises "Space-Ships" Are Something to Brag About
Again, one of the reasons we partner with Scenic Cruises is their commitment to doing something different than other European river cruise companies. Post cruise, gather your family and friends for your trip debriefing—tell them about stretching out after a wonderful day touring in spacious cabins with sleek, modern bathrooms. Boast that you rode the ship's e-bikes along the Danube from Dürnstein to Melk, with Scenic Cruises' Tailormade smartphone app to guide you. And casually mention how you transformed your balcony to an enclosed sun lounge with the touch of a button. Truly innovative, truly different. (Brag about how Scenic Cruises is better than any other river cruise line, and we will back you up on this claim!)
As with all of Go Next's partnerships, we don't shake hands with a company until we trust that it is completely vested in your trip of a lifetime. And as you can see, Scenic Cruises has put together a package that keeps that promise. Our guests love their experience with Scenic Cruises, and we know you will, too.
Do not miss your chance to join us on Scenic Cruises in Europe next year—start exploring now!
Rhine Highlights sails July of 2020.
Gems of the Danube sails August of 2020.