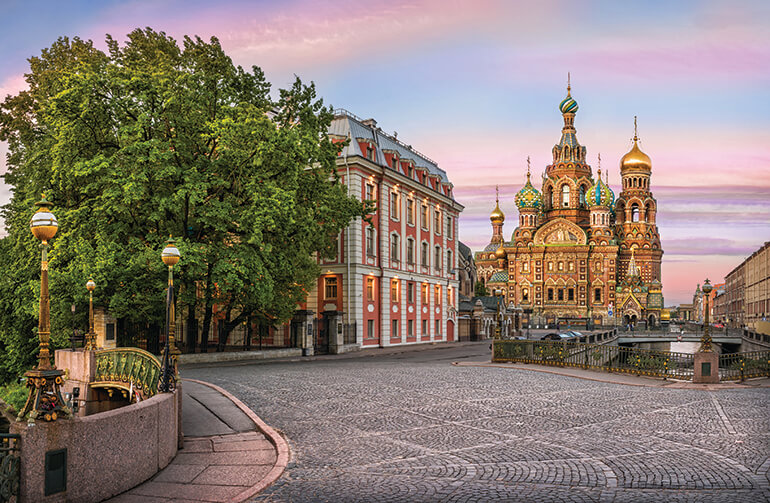 City Guide: St. Petersburg
September 06, 2019
So you're going to be in St. Petersburg for a day? It's the cultural capital of Russia—how do you know where to go, what to do, what to eat, what to see? Don't worry. We've cultivated a few must-haves for your St. Petersburg to-do list.
WHAT TO SEE
There's so much art and architecture in St. Petersburg, it's hard to choose. But of course when you're here you'll need to pay a visit to the Hermitage, the second-largest art museum in the world. See everything from prehistoric artifacts and Egyptian mummies to paintings by heavy hitters like Michelangelo, Rembrandt, Renoir, Van Gogh, Degas, Picasso, and Matisse. If you're looking for something a lot more contemporary, take a tour of the Street Art Museum, which has an incredible collection of graffiti, murals, and more from artists around the globe. For history buffs, check out the Peter and Paul Fortress—the original citadel of St. Petersburg, Peter the Great ordered its building in 1703. Today, you can see a traditional cannon firing there at noon daily. We'd be remiss if we didn't include at least one church on this list; St. Petersburg is rife with them. And beautiful ones, at that! Don't miss the Church of the Savior on Spilled Blood. Dedicated to Alexander II, this Russian Orthodox church is intricately decorated with ornate onion domes, murals, and mosaics.
WHAT TO EAT
A must-have is pelmeni, which are Russian dumplings cooked up with different kinds of meats and served with horseradish or sour cream. You can get them in most restaurants and as street food—they're the ultimate late-night snack. Or anytime snack. And have you really gone to St. Petersburg if you haven't tried borscht? This beet-based soup usually incorporates beef or pork stock and sautéed vegetables, and it's served with a dollop of sour cream and some fresh dill. If you're visiting in the summer, try it cold! (Though you can eat it hot, too.) Pirozhki are puff pastries filled with various ingredients, like meat, vegetables, cheese, or jams, and Russians have them as snacks or eat several for a meal in itself. For dessert, order a pyshka—a Russian doughnut. And maybe a glass of vodka!
WHERE TO SHOP
If you're looking to shop, people-watch, or lounge in a café, head to Nevsky Prospekt, which is the main thoroughfare in St. Petersburg. This street runs from the Admiralty to the Alexander Nevsky Monastery and jets through the historical center of the city. Here, you'll find department stores, beautiful churches, coffee shops, buskers, restaurants, street performers, and plenty of places to get souvenirs to take home. While you're here, keep an eye on the time! It's possible to spend all day walking around this area, so if you're planning on doing other things, budget your hours.
WHERE TO RELAX
Looking for a place to kick back and eat a picnic lunch, or somewhere to sip your coffee and catch a breather? Try New Holland Island, a man-made island in the center of the city with a few shops, cafés, and plenty of space to spread out in the sunshine. Otherwise, camp out in Palace Square—located just in front of the Hermitage, this square is the city's central plaza and is a great place to people-watch and take in the magnificent architecture of St. Petersburg. Summer Garden, just east of Palace Square along the river, is also a great spot to get away from the noise. This green space is filled with fountains and sculptures. Eat your lunch here or grab a few moments alone.
FINAL THOUGHTS
A few final things to consider:
If you plan to visit the Hermitage, purchase your tickets online ahead of time to avoid standing in long lines. The museum is closed on Mondays.
For a different perspective of the city, consider taking a boat ride through the canals and rivers.
If you have a chance, definitely try to see a ballet or an opera at the Mariinsky, which is world-famous. Scheduling can be tricky, so do your homework.
The best time to visit? Really, anytime. But we recommend summer or early fall.
If you visit in the summer, try to make it during the famous White Nights Festival (late May to mid-July), when the sky reaches only twilight.
Many places accept Visa and MasterCard, but for transport and small businesses, expect to pay cash.
If you haven't yet planned your trip to visit St. Petersburg, book a spot on our Baltic & Scandinavian Emperors cruise, which will be there for two days over the city's White Nights!