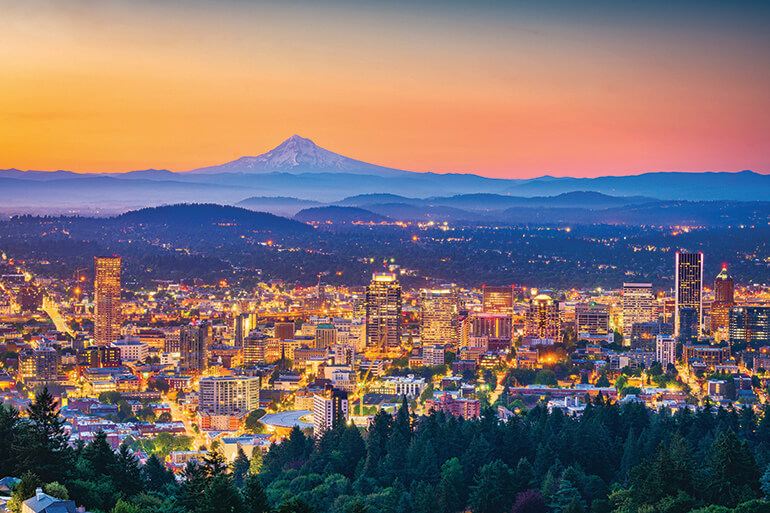 City Guide: Portland, Oregon
October 23, 2019
A true original, Portland, Oregon owns its quirkiness and flaunts its artisan flair. This great American city has plenty to offer visitors: exciting food, world-class gardens, and loads of fascinating public art and galleries. We've done the legwork so that you can make the most of your time in this "City of Roses."  
WHAT TO SEE: Public Art and Galleries
Creativity is in the air everywhere, evidenced by the strong tradition of art here.
We recommend checking out the Portland Public Art website to get a get a preview of what Portland has to offer. iPhone owners may also want to try the Public Art PDX smart phone app. This guide to Portland's artistic treasures includes maps, information about the art, and even a walking tour of the Japanese American Historical Plaza narrated by George Takei.
To get a real sense of the city's flourishing art scene, consider joining in on Portland's monthly "art walks" through these gallery-rich neighborhoods:
Pearl District hosts First Thursday
Northeast Alberta Street hosts Last Thursday
Central Eastside hosts First Friday
For more information, check out Travel Portland's monthly art walks guide.
WHAT TO EAT
Answer: Everything!
In this foodie city, brunch is famously delicious and notoriously well attended—the inevitable queues for this essential Portland experience are part of seeing the city like a local.
Or, for another authentic Portlandia experience, get in on the food cart action. "Pods" of carts are grouped together in a food court-like arrangement so that you can mix and match. Cartlandia and Carts on Foster are staples of this genre. Go for the irresistible food cart names (Viking Soul Food, Chicken and Guns), stay for the amazing eats.
If a night out is more your thing, try Departure Restaurant and Lounge atop the Meier & Frank Building in downtown Portland for unforgettable views over the city to match your special occasion.
WHERE TO SHOP
Attention shoppers: there is no sales tax in Portland, so shop to your heart's content! But we still believe the best places to shop are ones that will give you a sense of place. Here are our recommendations:
Saturday Market in historic Old Town on Saturdays and Sundays, offering over 350 vendors of arts and crafts
Powell's Books, Portland's iconic flagship store, and a must-see for bibliophiles
The Pearl District, Offering upscale boutiques, galleries, craft breweries, and artisan coffee
WHAT TO BUY: Portland Specialties
Take advantage of the tax-free environment to sample Portland-specific specialties. Stumptown Coffee, Pendleton Wool, and Jacobsen sea salt are all quality brands from the Portland area. This region is also known for myrtle wood products, hazelnuts, and marionberry jam. And, of course, you don't want to forget that bottle of pinot noir from the Willamette Valley.
WHERE TO RELAX: Parks and Gardens
You cannot visit Portland without stopping by at least one of its fantastic parks and gardens. Washington Park is home to the International Rose Test Garden, the Japanese Garden, and the Oregon Zoo, among other attractions and activities.
For a cultural immersion, the Lan Su Chinese Garden is an authentic Chinese garden right in the heart of downtown Portland. This oasis features opportunities for tai-chi, a docent-led tour, or a solitary stroll, as well as programs offering insight into Chinese culture.
If long walks are your way to unwind, Portland is also home to Forest Park, one of the largest urban forests in the United States, with easy access to 80 miles of trails right within Portland's city limits.
If you haven't yet planned your trip to visit Portland, book a spot on one of these trips: