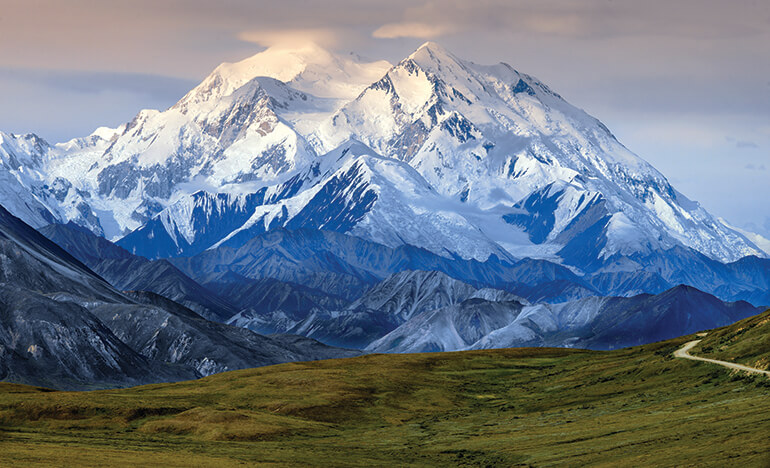 Six Reasons to Visit Denali
November 13, 2019
If you're planning an Alaskan adventure soon, there's one place you'll want to make sure is on your to-do list. Denali National Park & Preserve has been welcoming visitors since 1917 and there are tons of great reasons to visit. Here are just six!
Denali is the highest mountain in North America
At 20,310 feet, Denali is an impressive peak. The mountain was formerly known as Mount McKinley, but in 2015 the Department of the Interior changed the name to Denali. The Koyukon people who live in the area have referred to the mountain by this name for centuries. The name means "the tall one" or "big mountain."
The park is larger than New Hampshire
The actual mountain is just a small part of Denali National Park & Preserve. The park covers over six million acres of land, which encompasses rivers, glaciers, tundra, boreal forest, and incredible wildlife. Much of the wilderness that can be seen in Denali is untrammeled, which means that it's free from human intervention.
It's a nature lover's paradise
In 1976, Denali was declared a UNESCO biosphere reserve. Here you're likely to see an array of animals, including brown bears, moose, marmots, beavers, snowshoe hares, and of course the iconic Dall sheep. And if you're a birdwatcher, you won't be disappointed. Expect to spot waxwings, arctic warblers, tundra swans, owls, and golden eagles soaring over the trees.
See glaciers
About sixteen percent of the park is covered in glaciers. A count in 2010 approximated that Denali has 881 glaciers, which cover 1,540 square miles, or one million acres—about the size of Rhode Island!
Puppies!
Denali is the only national park in America with a working sled dog kennel. And as Alaska is home to the famous Iditarod Trail Sled Dog Race, there are lots of opportunities to see some cute and hardworking pups. If you opt into the Go Next Denali Post-Cruise Program following our Summer Vistas of Alaska cruise, you'll get to see the Huskies & Puppies Iditarod presentation with Martin Buser, a four-time Iditarod champion!
It's one of the most scenic places on Earth
Denali seems remote—it's reachable only by airplane, the Alaska Route 3, or the Denali Star Train—and that's part of its appeal. Whether you're flying over the peak of Denali in a flightseeing aircraft or taking in the crisp air on a brisk hike, there's no way you'll regret making your way there!