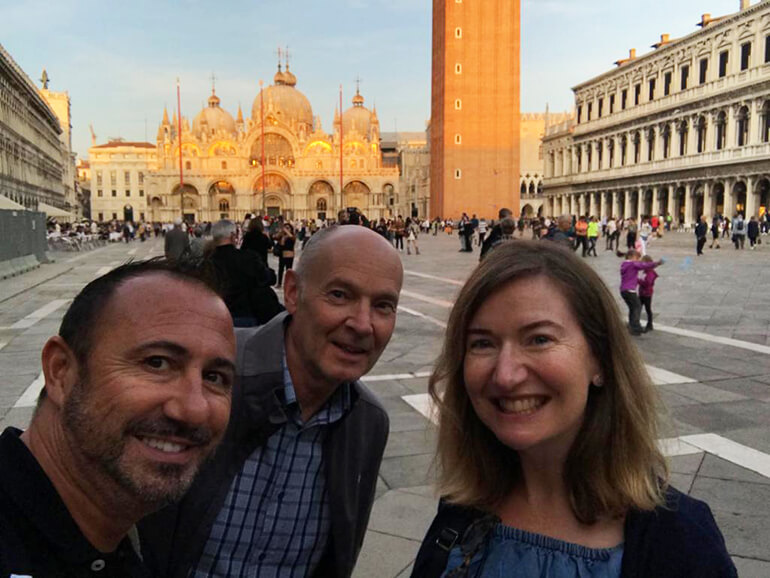 Get to Know an Onboard Program Manager: Megan
November 25, 2019
Next up in our onboard Program Manager showcase is Megan. Consistently a guest favorite, Megan did her first stint for Go Next in 1997 and still enjoys the job as much as ever. Megan is a native of Carlingford, Co. Louth in Ireland and has settled there after living in Germany, France, Austria, Switzerland, and the Netherlands. She speaks English, Irish, German, and French and can read menus in Italian and Spanish! Megan has an undergraduate degree in Business and Languages and graduate degrees in Tourism. Having lectured in tourism for many years, Megan is now happiest out in the industry, enjoying putting it all into practice!
What drew you to the travel business?
I fell into it! I went for a lunchtime walk one day at my university campus in Dublin and wandered into the Careers Office just to keep dry, as it was raining outside. I saw a job application form with a picture of a couple lying under a sun umbrella on a beach and was curious as to what that job could entail. It turned out the company was recruiting for overseas holiday reps. I didn't even know what a package holiday was, as my family always went to England to see my mum's family in the summer or holidayed somewhere in Ireland. I applied for the job, thinking I'd just do it for one summer, and I got it. Still at it. Still loving it.
Tell us what you do for Go Next?
I work on location for Go Next, whether it be on an ocean cruise, a river cruise, or a land program. My colleagues and I are there to assist our guests in whatever way we can. It might be to help them connect with their fellow alumni through different organized gatherings and tours; give information about excursions and ports of call; to chase up delayed luggage; or track down a lost item—all sorts of things. The nice thing is that no two days are the same and there's lots of variety.
And what is your favorite part of the job?
THE GUESTS!!! Back home we have the Irish word craic which means fun, conversation, chat, banter—and that's what I enjoy, the craic with the guests! And sharing travel experiences together. Maybe I'll be in a place where I've been many times before and a guest will comment on something and I'll see the place with new eyes. Being around people is enriching. Everyone has a story or a joke or an insight. It's a privilege to travel with our Go Next guests.
Your proudest on-the-job Program Manager moment?
I'm not sure what the proudest moment is. There are definitely moments when it is highly rewarding. This year I accompanied a guest with a worsening condition to the hospital in Germany. The guest spoke no German, the doctor spoke no English, and I was able to use my language skills to facilitate the consultation and subsequent treatment, as well as to reassure the guest throughout the procedure. It all worked out fine and we all re-embarked the river boat later that morning.
Favorite city?
That's hard to say. I feel blessed that I get to see so many beautiful places around the world. You end up having your favorite thing about the different cities we go to, so that each time you enjoy revisiting that, e.g. a favorite gelateria in Rome, a favorite bookshop in Paris, a favorite tea room in London, a favorite neighborhood in New York, a favorite pub in Dublin… you get my drift! I have lots of favorites! I should add that when I'm in the city, I always consider myself a city girl, but when I get out into the countryside where the scenery blows me away, I realize I'm a country girl too!
Favorite travel memory?
Again, there are so many, but perhaps a landmark travel experience was Interrailing as a student in 1992. I was based in Cologne and my friend Siobhan was in Berlin, both of us on study exchange programs. We covered ten countries in thirty days. I can remember us rocking up to a train station, looking at the departures board, and jumping on the next train, which happened to be to Barcelona. That's when I saw Gaudi's unfinished Sagrada Familia for the first time. I always enjoy returning with the guests and watching them revel in the zany architecture, the way I did that first time. I remember at one point on the trip the weather was so bad, we headed as far south as our Interrail pass would allow and that's when I discovered the Greek isles of Santorini and Crete. I was struck by the hospitality of the locals as we hitchhiked across the islands. They were so good to us as we traveled on our way. I have an old photo of me and Siobhan sitting in the back of a battered old pick-up truck, with our windswept hair, broad smiles, and big ice-creams in hand. Just living from day to day. Carefree! Can you sense the nostalgia?!
Best travel advice?
"Allow for the expected" and then "go with the flow." I'll never forget a certain lady who had delayed luggage. It was missing for half the cruise and yet she was always serene as she headed off on tour and would come back all smiles after a fun day in port, always in the same clothes. Once her luggage arrived, we soon saw that she had the most fabulous wardrobe; we enjoyed the several costume changes a day! It turns out that she worked in women's fashion. I'll never forget her saying: "I always thought women's clothing was the most important thing in the world. Now, after spending a week without my suitcase, I know it's not." I admired the way that she, with a passion for clothes as she had, did not let her delayed suitcase spoil her vacation but just got on with having the trip of a lifetime.
Anything else you want your guests to know about you?
I've said it already but just to remind them they are the reason that I am still in the travel industry twenty-nine years on from when I touched down at Salzburg Airport, Austria to work as a holiday rep in Kitzbühel. I got into the job because of my desire to travel but have stayed in the job because of my fondness for the guests. Also, Go Next is a great company to work for, so I'll take this opportunity to say thank you to all the folks at the head office in Minneapolis. That's all for now!