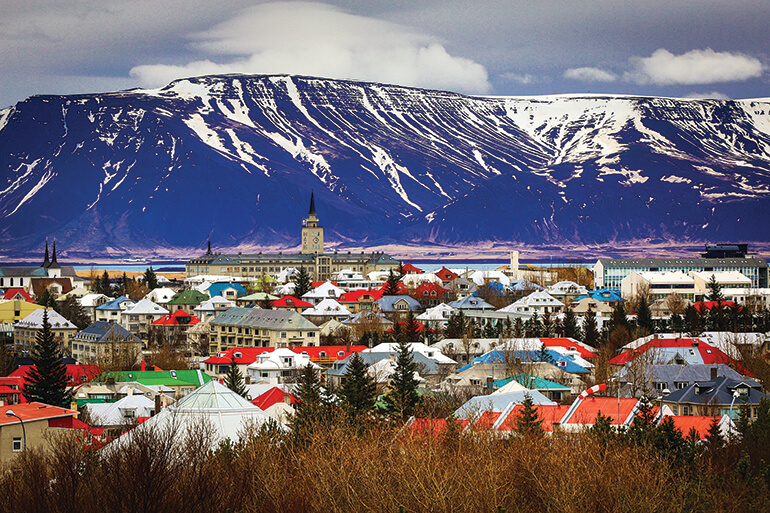 City Guide: Reykjavík
December 06, 2019
The northernmost capital in the world, Reykjavík is also a north star for culture and art. The city is tops on the charts for places to visit and it's easy to see why. It's extremely walkable and there's tons to see and do—and eat! We've compiled a list of the things you simply have to check off while you're there.
WHAT TO SEE
No trip to Reykjavík would be complete without a visit to Hallgrimskirkja. And in fact, it's hard to miss! The iconic church building, designed to mimic the mountainous landscape of the country, is one of the tallest structures in Iceland. Then check out the nearby Sun Voyager, created by Jón Gunnar Árnason as an ode to the sun and the idea of hope. This sculpture is yet another site that's emblematic of Reykjavík. If you have a little time on your hands, this city is also rife with interesting museums. Head to Perlan—a planetarium and nature exploration center. Or if you're looking for something a little edgier, we recommend the Icelandic Punk Museum.
WHAT TO EAT
You can't go wrong with seafood or lamb, which are two of Iceland's specialties. Try lobster soup at a harborside restaurant or get yourself some fish and chips—haddock and halibut pulled straight from the bay. And any which way you dice it, your lamb is bound to be delicious, whether it's in a stew, a kebab, or a street food wrap. Another dish to try in Reykjavík, however odd it may seem, is the traditional Icelandic hot dog! It's known here as pylsur, and you should order it with everything, which includes two kinds of onions and a zingy remoulade. Of course, you'll need to get some rye bread while you're visiting. Iceland is known for it. You can eat it in a whole mess of different ways—with butter, with fish, or even in ice cream(!)—but you get extra points if you find a vendor who cooks the bread using geothermal heat from the ground. If you're feeling culinarily adventurous, seek out fermented shark.
WHERE TO SHOP
A few years ago, Vogue wrote an article calling Laugavegur the coolest place in Reykjavík. This compact street has everything from vintage stores and bookshops to bakeries and breweries. On weekend nights, expect the place to be pulsing with life! If you're looking for a mall, the second-largest mall in Iceland is called Kringlan, and it's just southeast of downtown. There are tons of other souvenir, clothing, and music shops spread out around Reykjavík, which is extremely compact and walkable, so just keep your eyes peeled.
WHERE TO RELAX
If you've gotten some takeout food and you're looking for a place to kick back and eat your fish and chips, there's a cute pond in the center of downtown called Tjörnin—admire the scenery, feed the ducks, and watch the world go by.
FINAL THOUGHTS
Keep a lookout for some incredible street art when you walk around the Old Harbour.
If you're in Iceland for an extended period of time, a three-hour drive from Reykjavík is Strandagaldur, the Museum of Icelandic Sorcery and Witchcraft in Hólmaví. It's not to be missed!
The northern lights season in Iceland is from late August to mid-April, but your best chances of seeing them are from late September to late March, when it's darkest.
Credit cards are widely accepted, but gas stations almost exclusively accept debit cards, not credit cards—you'll need a PIN to complete your transaction.
Looking to plan a trip to Reykjavík? Book a spot on our Iceland & Scotland Adventure sailing in July 2023, and add on a Reykjavík Post-Cruise Program!