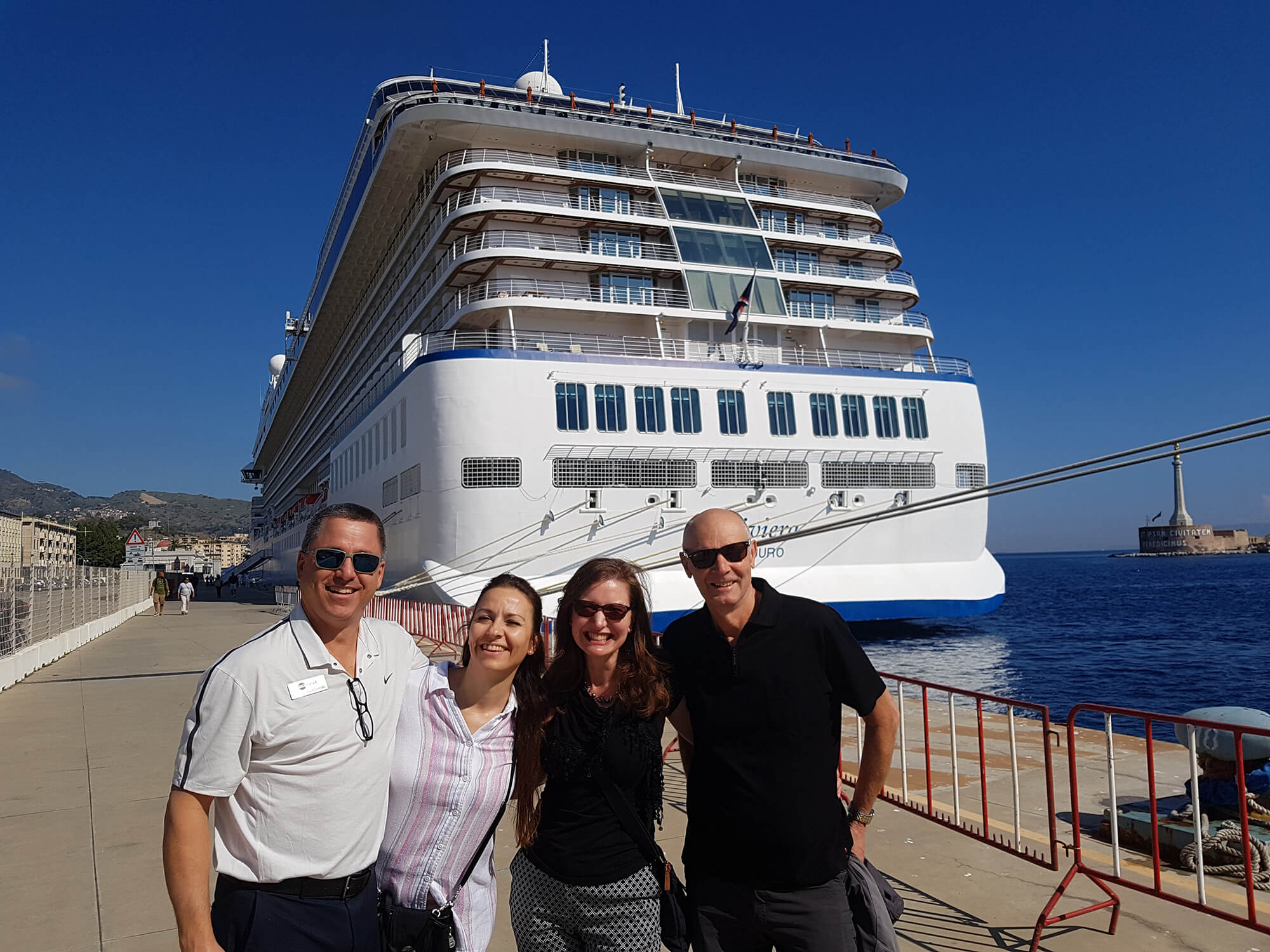 Get to Know an Onboard Program Manager: Frank
January 24, 2020
One of the most compelling reasons to work in the travel business is that it's a people business. Today we have the pleasure of introducing you to one of our guests' favorite people: our Program Manager Frank. Frank's experience in tour operations and as a destination manager pairs perfectly with his charming smile and calm, confident manner. He's bilingual in English and French, and he has a good command of Spanish. When he's not traveling, Frank's interests are swimming, hockey, skiing, and nature. Read on and get to know Frank!
What drew you to the travel business?
In high school, I went on a student exchange in France and it opened my eyes to travel. I knew that I wanted to live in different parts of the world at some point in my life. I first worked for an airline as a baggage handler to have access to travel perks… I used those extensively. I went to the Dominican Republic on holidays and the representative that met us on arrival was actually from Canada. I asked: how could I get a job like yours? She wound up interviewing me the following year and then I spent the next 11 winters in sunny destinations! During that time I met Branka [our Senior Program Manager] who hired me—and has kept me busy—for more than 20 years.
Tell us about what do you do for Go Next?
When I first started in 1998, we were called "destination representatives." At that time, it was mostly charter programs in different parts of Europe but eventually destinations expanded to Asia, Africa, and South America. At present time, most of our trips are luxury cruises in different parts of the world. There are a wide range of duties primarily based on customer service, but it is always so much more. Every time I start another program, I know that I will be facing a new challenge. But with all these years of experience, I know that working with my colleagues and our staff in the office in Minneapolis, there will be a resolution.
Favorite part of the job?
One of my favorite things is to reconnect with colleagues on any given trip. Go Next has a high-quality overseas staff and even if you are working with someone for the first time, it always "clicks" immediately. There are so many itineraries that you may not get to work with certain staff for a while but it's like you saw each other yesterday when you meet again. All of us have been in locations where we meet staff and clients from other companies. We are very fortunate at Go Next to have such a quality clientele, not just as travelers but as interesting people. One client I remember had been the surgeon on Air Force One!
Proudest on-the-job Program Manager moment?
That is a difficult question because there are so many times where you wind up helping someone in a positive way. What's most rewarding is when you see the same faces over and over again and they remember that you made a difference the last time around. Years ago in the South of France, a couple had had their belongings stolen, including their passports. One of the airline agents found two American Passports on the floor of the Nice airport. He just happened to have my phone number and called me since he knew we had a large group of Americans in town. I went to retrieve the passports and delivered them back to the guests. They were overjoyed, not only to get their passports back, but also to avoid the process to replace them. Two years later I saw these guests again in Zürich and the lady was proud to show me her over-the-shoulder purse which she was holding tightly!
Favorite travel memory?
Endless travel memories, too many to mention. A couple of years ago, we took some time off and spent three months in South America along the west coast from the top of Colombia to the southern tip of Chile. This was followed by three months in New Zealand covering both the North and South Islands. The final leg of the trip was an eight-week European tour from Venice to London. 
Best travel advice you ever gave?
Pack light, board last! If you pack light, you are not worried about overhead space on board the plane and therefore there is no need to get in line. Wait until the mayhem is over and quietly stroll on board. I've been lucky a few times that I was offered a business-class seat because there was no one behind me and space was available.
Anything else you want our guests to know about you or the Program Managers?
Working with Go Next for over 20 years is a testament to the quality of the company as well as the guests and various suppliers. When I started in tourism in the early 90s, my training class had about 30 new trainees and I am by far the last one left in the business. I truly enjoy what I do and I don't see myself changing that any time soon. Changes in latitudes and meeting new people is what it's all about.