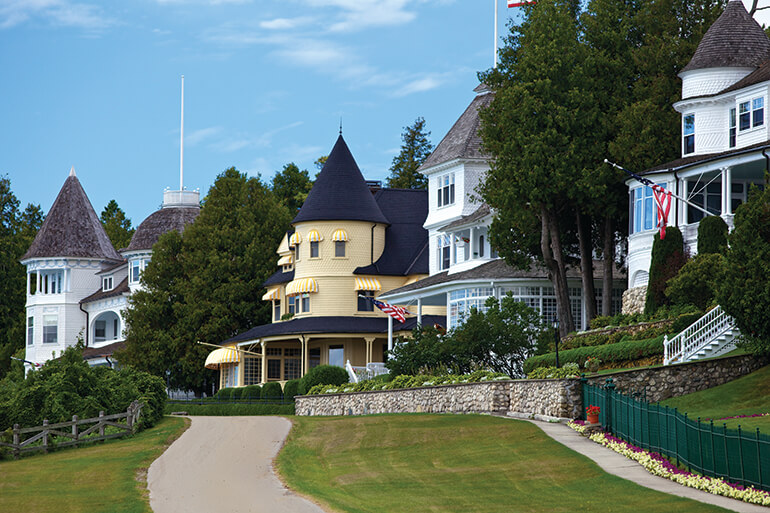 Photo of the Month: Mackinac Island
February 07, 2020
Your most-loved picture on our social media in January was Mackinac Island! So we're taking a moment to spotlight this Victorian-esque getaway. Here are just a few things you can do if you're porting there on your next Great Lakes cruise!
Ride in a horse-drawn carriage
Mackinac Island has a no-car policy, and one of the best ways to see the island is in a horse-drawn carriage. There's nothing more relaxing (or romantic!) than clip-clopping your way around town to see the sights.
Eat fudge
Save room in your luggage for some sweet treats from the island! Mackinac is famous for its fudge, and there are a handful of well-known shops you can pop into for your chocolate fix. If you've got a sweet tooth, this to-do is a must-do.
Visit the Grand Hotel
No visit to Mackinac Island is complete without a stop at the historic Grand Hotel. Once host to guests like John F. Kennedy, Madonna, James Earl Jones, and Bill Clinton, the Grand Hotel is considered the largest summer hotel still in operation today. Among its other superlatives is its 660-foot front porch—the world's largest.
See a cannon firing
History buff? Make sure you pay a visit to Fort Mackinac! The fort played a pivotal role in the War of 1812 and today serves as a museum. You can witness reenactments and cannon firings daily.
Explore
Since the island has no motor vehicles, another great way to get to know the island is to just walk around! There's no shortage of little shops and cafés to wander into. And 80% of the island is made of up state park grounds, so if hiking or biking seems more your speed, there's ample room for you to move and groove.