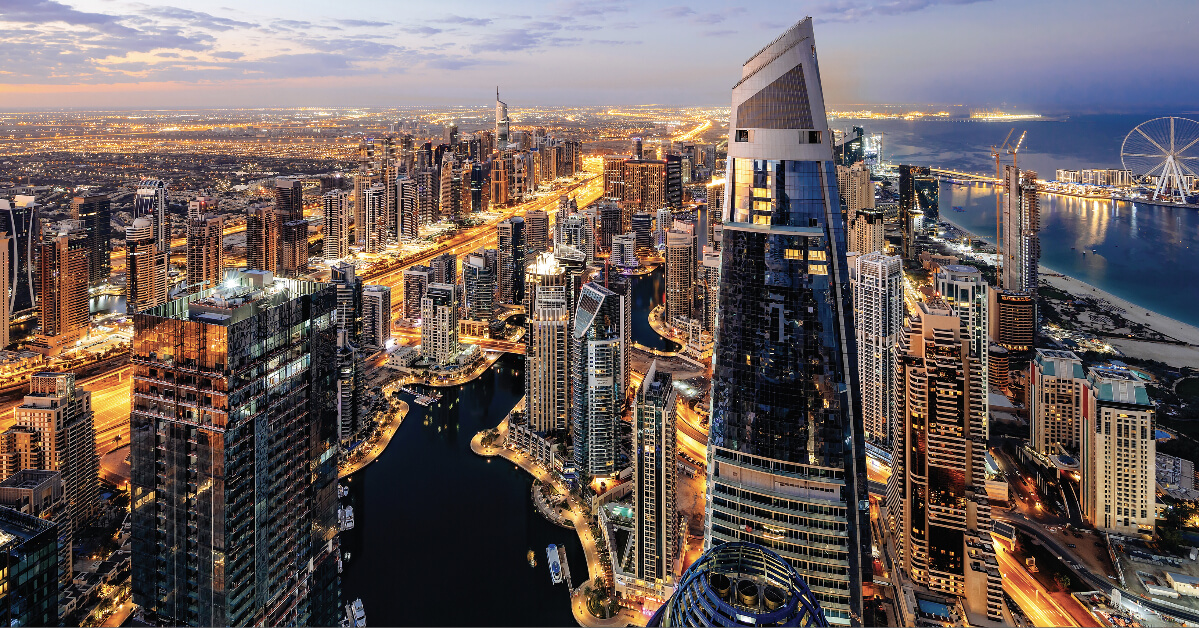 City Guide: Dubai, U.A.E.
February 14, 2020
CITY GUIDE: DUBAI, U.A.E.
Dubai has a well-earned reputation for leaving visitors in awe, a distinction that grows with each outrageous new building project. And from shopping in jumbo-sized malls, to exploring the restored Al Fahidi Historic District, to treasure hunting in the gold and spice souks, there is no shortage of things to see and do. Let this surprising city wow you like no other can.
WHAT TO SEE:
"What should I see in Dubai?" is a loaded question. The city is jam-packed with sights and activities, with something for everyone, so it's hard to know where to start. Let us break it down for you:
If you're into architecture, Dubai is your happy place. Among many astonishing feats of human ingenuity, you'll want to visit the tallest building in the world, Burj Khalifa. There is an observation deck on the 124th floor, but you can also enjoy brunch from the rooftop, 160 dizzying stories above the Earth. Visit at night to see the fountain show set to music. You'll also want to snap a photo of the Burj Al Arab, shaped like the sail of a dhow. For excellent vantage points of the city skyline, the Dubai Frame and any of the five pedestrian bridges across the Dubai Canal are your best bet.
Art and culture lovers want to head to Alserkal Avenue, featuring modern art galleries and performance spaces. For a taste of authentic Arabian culture and history, explore the Al Fahidi Historic District. Here you'll find a collection of museums focused on specific aspects of Arab culture, as well as guided explorations of the food and other traditions of the region.
Or just soak up the atmosphere. Visit the Dubai Marina to glimpse the yachts and high-rise buildings emblematic of the city's famous glamour. Make sure to check out the Souk Madinat Jumeirah, styled like a traditional Arabian town. Enjoy a boat ride or kick back at a waterside café after browsing the shops. And don't miss your chance for a desert safari, a must when you're so near the Arabian Desert. Take a 4×4 through the dunes for a break from Dubai's hustle and bustle.
Bonus for those visiting between October 2020 – April 2021: Expo 2020 Dubai is a six-month festival showcasing sensational futuristic architecture in true Dubai fashion. The event brings together a record 192 nations to celebrate each country's ground-breaking innovations, cuisines from around the world, live cultural performances, and inventive art. Get more info about the event here.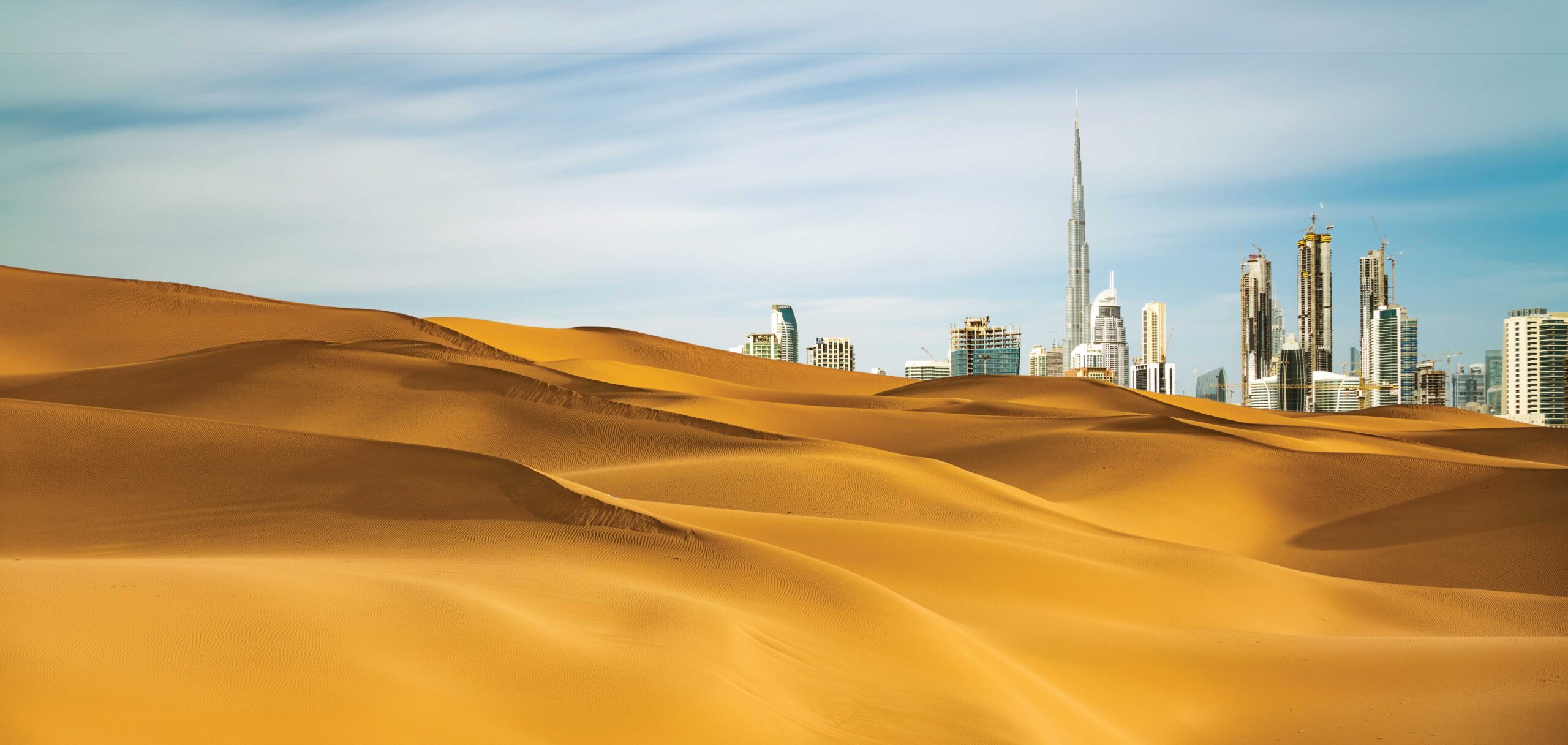 WHAT TO EAT
Dubai prides itself on welcoming many cultures—and it may be said that when it comes to dining, the city puts its money where its mouth is. You will not go hungry for lack of choice when it comes to international dining in Dubai. For good suggestions regardless of the type of cuisine, check out the TimeOut Dubai Restaurant Awards.
If you're ready to sink your fork into something less familiar, here's a primer on the local flavors:
Manakish is a breakfast food, often likened to pizza—dough stuffed with akkawi cheese, olive oil, herbs, ground meat, and a seeming infinite choice of toppings.
Al machboos is chicken or lamb stewed with rice, onions, various spices, and dried limes (loomi). Officially the national dish of Bahrain, its popularity has spread across the region.
Khuzi (or ghuzi) is home cookin', Dubai-style and the national dish of the U.A.E. As such, most traditional Arabian restaurants offer this dish of roasted lamb or goat served on a plate of rice and nuts.
Fattoush is a vegan option of tomatoes, onions, cucumbers, lettuce, mint, garlic, lemon, and olive oil served on Levantine bread (a cheesy flatbread). Similar to a panzanella, it's light and fresh, and easy on the Western palate.
Finally, try camel milk, just to say you did. Camel milk ice cream, milk shakes, and cappuccinos at The Majlis in the Dubai Mall will make you say, "yes, please" to dromedairy delights.
WHERE TO SHOP
Paradise takes on a new meaning for shopping fanatics in Dubai. The city even stages a Dubai Shopping Festival every year! So the question becomes "where do I even start?" We've got you covered.
Souks
Broaden your horizons with a visit to Gold Souk, Spice Souk, and Perfume Souk—immerse yourself in the colors, tastes, and smells of this region at these authentic Arabian bazaars. These three souks are located near each other, on the Deira side of Dubai Creek, so you can plan to visit more than one. There is something for every taste and budget here, and haggling is expected.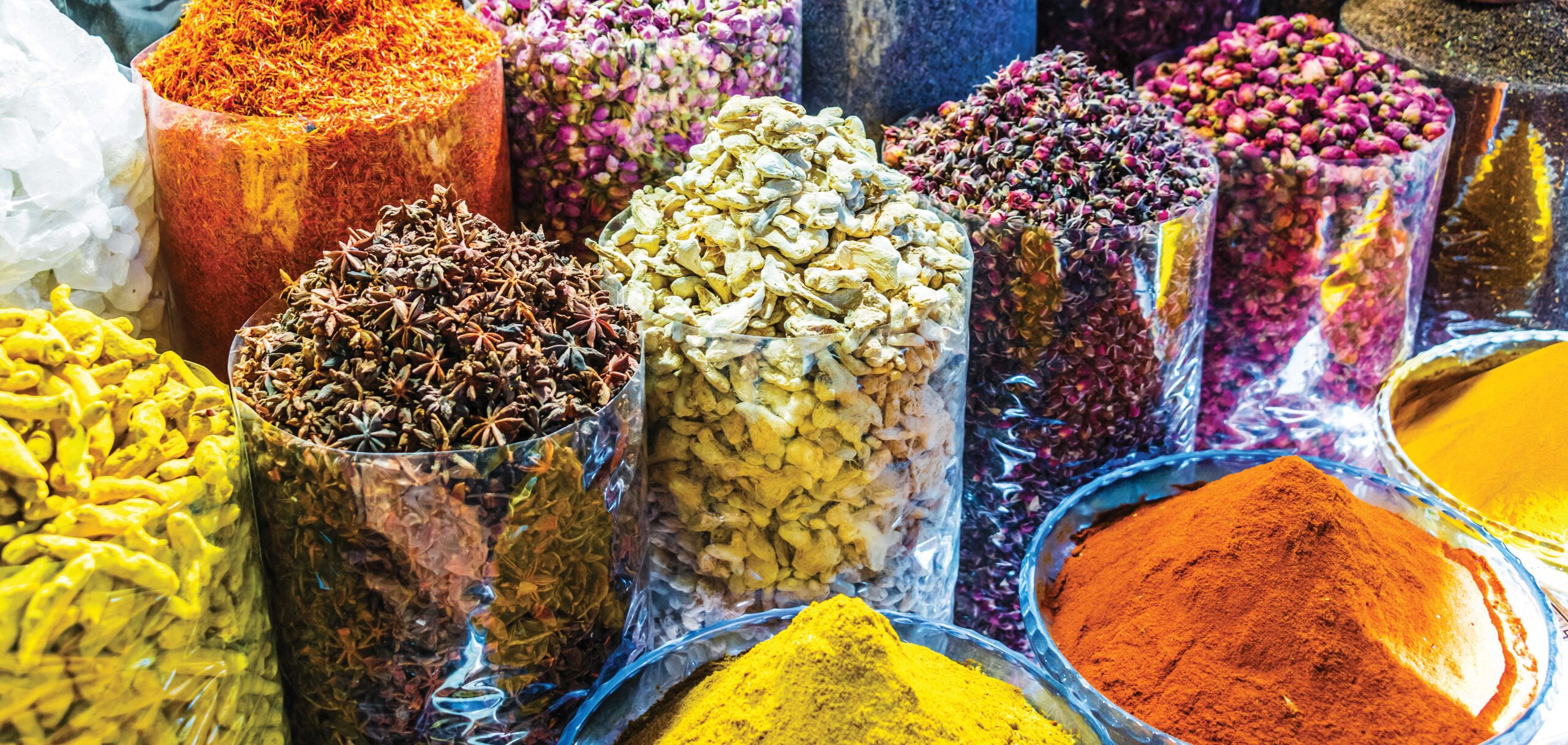 Malls
The largest malls in Dubai are the Dubai Mall and the Mall of the Emirates. They each can easily take several days to explore, and they both feature unique experiences and a range of price points, from affordable to luxury goods.  Some highlights:
Dubai Mall. Conveniently located near Burj Khalifa, the mall features Dubai Dino, with real 150 million-year-old dinosaur bones, Dubai Ice Rink, and Dubai Aquarium, home to over 33,000 marine animals.
Mall of Emirates. Cool off at the Mall of the Emirates—the venue is famous for its indoor ski hill, penguin encounters, and the Snow Bullet zip line.
WHAT TO BUY: Dubai Specialties
Gold. Start at the Gold Souk for from pocketbook-friendly everyday trinkets to splurge-worthy statement pieces. Or visit the textile souk for pashminas in endless varieties of color and pattern. Made of cashmere and silk, these shawls are an elegant and practical choice for an authentic souvenir. And of course, you'll want to pick up camel-shaped camel milk chocolate for the kids in your life.
WHERE TO RELAX:
Dubai's beaches are lovingly maintained and a wonderful way to catch some fresh air and vitamin D. Some are private for hotel guests, but there are plenty of public beaches for a sunny sojourn. Umm Suqeim Beach is a fave with kite surfers. Jumeirah Beach Park is one of the most popular. Grab your sunscreen and your travel journal and spend some well-earned downtime reflecting on all you've seen in Dubai.
If you haven't yet planned your trip to Dubai, book a spot on our Mystical Mosaic cruise sailing in December 2020 and join in our Dubai Pre-Cruise Program!