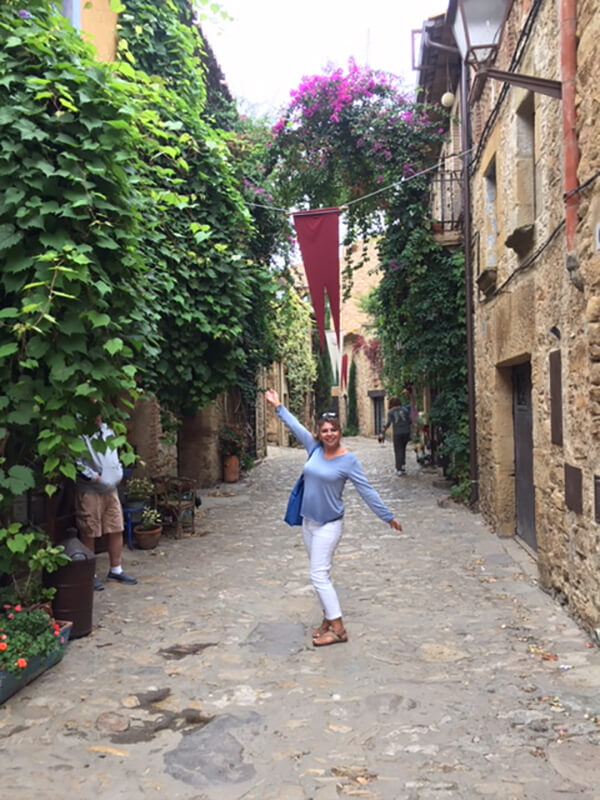 Get to Know an Onboard Program Manager: Helen
February 28, 2020
In this installment of Get to Know an Onboard Program Manager, we'd like to introduce Helen, just back from escorting our guests in Africa (hint: follow the @GoNextOnLocation Instagram account to see Helen's latest snaps of African wildlife, local culture, and more). Helen has directed our groups throughout Europe, Australia, Asia, South America, and Africa. In our chat, she explains how much she enjoys the thrill of meeting new people and discovering new places. We wish everyone loved their jobs as much as Helen does!
What drew you to the travel business?
Helen: My passion for travel! Since I can remember, I have always traveled. Being born in New Zealand with Greek parents meant traveling long-haul flights, stopping along the way in various Asian destinations. Not clearly knowing what I wanted to pursue for my higher education, I decided to study what I loved: International Travel Management.
I moved to Greece with my wonderful mum. I was already bilingual in Greek and English. I was later introduced to the beautiful Italian language. Now I have over 20 years of travel industry experience, having had a diverse career working for Alitalia Airlines, 5-star hotels, and destination management companies (DMCs). I am now using all this knowledge as a Go Next Program Manager. After meeting Branka many years ago while working for a DMC in Athens on a Go Next Pre-Cruise Program, she offered me work. I accepted the exciting challenge, and I am still here, still excited!
Tell us about what you do for Go Next.
Helen: Primarily we are focused on luxury cruises, traveling around this amazing world. We have however expanded to river cruises and some brilliant land programs along the way. I am there to make sure everything that has been put into place takes place! That's the logistical part of the job.
And then comes my favorite part, the guests' satisfaction. I arrange social get-togethers, which add to the guests' experience, and I help and share my knowledge to make the tour comfortable, enjoyable, and memorable. It is not as easy as it seems, and it can be challenging. But we are a great team of professionals on site and in the office, so I know that whatever needs to be done, we can do it.
Favorite part of the job?
Helen: That has me really thinking, it is so difficult to pick just one! But if I have to pick one, I would say it is the knowledge I gain on each trip.
Every tour is different, from the destinations, which offer cultural experiences and history, to interacting with locals and learning their way of life. We travel for many days, bonding with colleagues from different parts of the world and conversing and sharing stories with our guests. Every day I learn something! So yes, the knowledge of places and getting to know the people is what makes this job enjoyable.
Proudest on-the-job Program Manager moment?
Helen: There are many times at the end of the day that I have felt proud of how I handled difficult situations, like theft or illness, or how I made someone happy. A proud moment that stands out in my mind is helping a son and daughter arrange something special for their parents' 50th golden wedding anniversary. We set up a private function with champagne and a food platter in a romantic setting under the stars. They thanked me for making it so special, with tears of happiness in their eyes. At that moment, I was proud and honored to be part of something so special that was 50 years in the making!
Favorite travel memory?
Helen: I am so blessed to have so many, all special for various reasons. I will travel back in time with you, back to the days I worked for Alitalia Airlines. One of the perks of the job was free airline tickets. The first free flight I used was to travel to Paris with my mum. I was the one finally able to treat her on an overseas holiday. We walked the streets of Paris endlessly, and we enjoyed the French cuisine and culture. We talked all day and night. We were always close, but that holiday turned us into best friends. So, I say grab the hand of a loved one, whether that be your parents, spouse, sibling, or friend, and build some unforgettable experiences together.
Best travel advice you ever gave?
Helen: There are endless travel tips! I will not point out the obvious ones but rather something that will make the trip memorable. Make it a goal to make the most of your tour not only during your trip, but also prior to traveling, even if you have professionals guiding you. I recommend reading up on your destinations, seeing what interests you, and maybe learning a couple of useful words in the language of the country. Then see the smiles on the locals' faces for the effort you just made! English is a universal language and great to know while traveling, but it is fun and rewarding to even just say "Hello" in the local language.
Anything else you want our guests to know about you or the Program Managers?
Helen: Yes! Go Next is a brilliant company that brings like-minded people together. Our guests make friends along the way and keep coming back! The amazing Program Managers and the excellent staff in the office work hard and make a great combination. The team's standard is high in the travel market, which is what makes me still love what I do. I can honestly say I am a firm believer that the only way to do great work is to love what you do!
My passion—for people, places, and knowledge—keeps me going and happy. Therefore, I am wishing us all the most amazing journey.