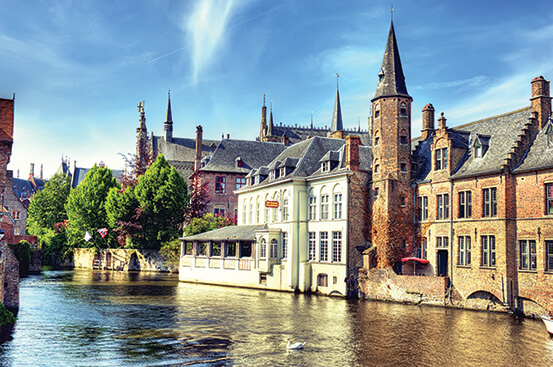 6 Movies That Can Transport You
May 14, 2020
While we might not be traveling right now, there are other ways to get where we want to go! Maybe you're finding yourself in your house a lot more than usual. Here are six movies that are favorites among the Go Next staff—ones that instill that spirit of discovery and exploration that we know unites us all. Read on to check out some good flicks that feature some tantalizing travel destinations you can watch if you have a little time to spare.
1. Lost in Translation
Transport yourself to Tokyo in this 2003 movie starring Bill Murray and Scarlett Johansson. The bustling Japanese capital serves as the perfect backdrop for two lonely strangers who meet and form an unlikely bond.
2. In Bruges
True to its title, this 2008 dark comedy is set in Bruges, Belgium. Two Irish hitmen hiding from their angered boss run off to Bruges and antics ensue. In the process, we're introduced to all of the architecture and scenery of one of the most beautiful cities in the world!
3. Waking Ned Devine
This 1998 comedy is the perfect pick-me-up. A small Irish town of 52 residents is rocked when a man wins the lottery—then dies of shock! The story is set in Ireland, but the movie was filmed on the Isle of Man, and the scenery is as charming and captivating as the story line.
4. Fried Green Tomatoes
The American South is calling you! If you haven't seen this 1991 dramedy, it's about time. And if you have, it's the perfect time to revisit it. Fried Green Tomatoes follows two friendships—one in the Depression era and one in the 1980s. The film will give you a taste of true southern flavor and culture.
5. Amélie
If you want to whisk yourself away to Paris for an afternoon, try this 2001 French film about a quirky waitress who dabbles in people's lives, trying to bring joy to those around her despite her own loneliness. This movie is set in the Montmarte neighborhood, and unless you speak French, you'll need to read those subtitles!
6. Into the Wild
Alaskan wilderness, anyone? Into the Wild (2007) was based on a book of the same name by John Krakauer, published in 1996, so for extra points you can read the book first! This true story follows a man who gives up everything he has to hike into the wilderness alone.