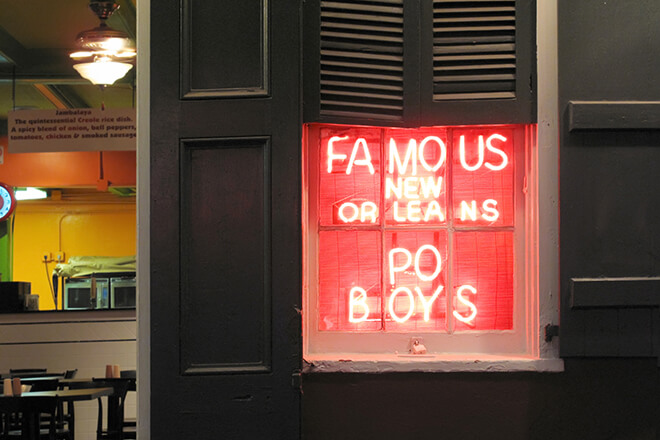 A Guide to Good Eating in New Orleans
August 20, 2020
New Orleans is like no place else in the world. It's considered number one for a lot of things, but its food culture is top-notch! This started off as a top ten list, but we had to just keep going. If you're on your way to New Orleans and in need of a foodie-related outing, here's a rundown of the twelve things you should consider trying:
Beignets
Who says you can't start with dessert? Beignets are classic New Orleans and commonly eaten for breakfast, too. Deep fried pastry dough, covered with powdered sugar, and traditionally served hot, these sweet treats are number one on our list for a reason.

Bananas Foster
On the subject of dessert: bananas foster is another must-try delicacy! Thought to be started in New Orleans at Brennan's, you can still order up this flaming dish there today. If you're a fan of bananas and vanilla ice cream, this one's for you.
Jambalaya
Nothing says down South like a bowl of jambalaya—a Creole stew made with vegetables and meats like sausage and chicken (usually spicy!), served over rice. This traditional dish is a favorite among many.
Po-boys
If you've never had a po-boy, don't worry. You'll feel rich eating it! Louisiana's take on the sub sandwich, this bad boy almost always contains meat, though veggie lovers can usually find a take they'll enjoy. Meat lovers? These guys come with lots, so be prepared!

Oysters
It's no surprise that a city on the water brings in tons of delicious oysters each year, so don't miss out on trying them if you're a seafood lover. You can get them raw, fried, or in almost any other dish. If you're feeling adventurous, head to an oyster bar and learn the tricks of the trade.
Turtle Soup
Another Creole classic, this soup does actually contain turtle meat! Usually snapper. So if you're feeling up to the task, prepare yourself.
Pralines
If you're looking for a sweet treat to take home from your travels, look no further. These are pecan-filled caramels with a fudge-like consistency. You can get them just about anywhere in the French Quarter.
Gumbo
Gumbo is the official state dish of Louisiana, so it's not a mystery why it's on our list of things to try when you're in New Orleans. There are different types of gumbo—Cajun and Creole—but all types are delicious! So try your hand at a bowl or two of this soup made with meat, celery, onions, peppers, and (typically) okra.

Muffaletta
Everyone deserves a good muffaletta now and then! This round sandwich was invented in New Orleans and has everything good—Italian meats, olive salad, and lots of cheese piled between Sicilian sesame bread.

Crawfish
Peak season for crawfish in New Orleans is early March through mid-June, though they're typically available from January through August, so your window for enjoyment is pretty wide! Seafood restaurants all around the city are crawling with these little guys—don't miss out.

Etouffee
Another dish that's popular in both Creole and Cajun cuisines, this tasty guy is made by topping rice with seafood—usually shrimp or crawfish.
Sazerac
The official cocktail of New Orleans and, some claim, the oldest cocktail in America, this is also a must-try for your foodie bucket list. A variation of a cognac cocktail, it's served with rye whiskey, Peychaud's Bitters, absinthe, and sugar.
If you're eager to try some of these tasty treats, come sail with us to New Orleans! Our cruises on the American Queen Voyage's riverboats can take you there in 2023: