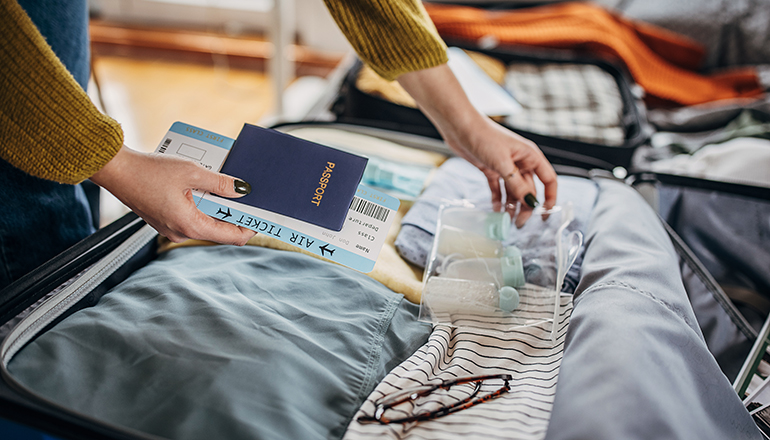 Packing Tips and Travel Essentials
October 04, 2022
If it's your first time cruising, you may not know what to pack, but there are a lot of things that can make your stay on a ship much more comfortable. Some of them are no-brainers, but some of them are things you might not even think about! On your cruise, comfort and relaxation should be your first priority. Don't waste your time ashore hunting around for a small item you can bring from home.
________________________________________________
Copies of important documents/cards
Make copies of all important documents—like your passport and travel insurance policy—and keep them separate from your actual documents. That way, should something happen, the documents will be easy to replace. It's also a good idea to make copies of the credit cards you plan to bring in case they should get lost or stolen. That way, you'll have your bank's contact information (it should be on the back of your credit card) so you can call them right away to put a stop on your cards in case of an emergency. Snapping a photo of important documents is also a smart way to keep copies handy, and if you save your images to the cloud, they'll never be lost.
Translation cards for food allergies
Translation cards are something you may not think of, but they can be a real lifesaver (literally!) if you plan on eating local cuisine on your trip and you don't speak the language. If you have food allergies or sensitivities, definitely look into these. They're typically credit-card-sized, so they easily fit in a wallet, and they range anywhere from free to around ten dollars. Just show them to any waiter, barista, hotel staff, or any other service person who may be handling or making food for you. They're also on hand should you need to show them to a doctor.
Lanyard for Room Key
Your room key is your key to all the fun on the ship, and some people prefer not to dig it out of a pocket or purse when needed. If this is you, a lanyard can be a helpful tool to keep your key easily accessible. 
Vaccine Card/Passport holder
It is likely that you will be showing your vaccine card or passport at several locations. A holder can keep those documents safe and easily accessible. There are a lot of options to choose from, so make sure you choose one that works for you. The look is not as important as the function. 
Magnets
People who like to have itineraries where they can see them and hats and coats hung by the door will love the benefit of magnets or magnet hooks. Many surfaces of a cabin are magnet-friendly, and magnets and magnetic hooks can be used to tack important papers to the wall or hang essential items. 
Small Portable Cabin Fan
If you sleep with a fan at home, you might want to purchase an inexpensive, compact, portable cabin fan. This could help you rest better between excursions and help the ship feel more like home. 
First-aid kit
It's important to be prepared in case you get a scratchy throat, a sunburn, or a blister that won't quit. Instead of hunting around in the onboard shop for simple items, you can bring a small supply of ibuprofen, cough drops, allergy pills, bandages, aloe vera, tums, pepto bismol, etc. You may also want to consult your doctor about getting a little extra of any prescription medications that you take, just in case.
Sunscreen and hat
Whether you are visiting a cool or warm climate, the sun will be there. Bringing your own sun protection can prevent you from having to look for some aboard the ship, and it can ensure you have more time to play. Make sure to bring enough sunscreen for each day. Also, a wide-brimmed hat that can easily be folded into your suitcase can protect you from those rays.  
Blanket
Our excursions and Go Beyond trips have many opportunities to relax in beautiful scenery. In some places this is a beach, in others it is a field or a meadow by a lake. Wherever you are traveling, a blanket that packs up tightly can be useful. 
Towel Clips
If you are cruising to a place where you might catch some rays aboard the ship, towel clips might save you some frustration. While cruising, the wind might be blowing. This sometimes makes it difficult to keep your towel right where you want it, and towel clips are an inexpensive solution. 
Sandals with tread
Even if you aren't going somewhere warm, you may want to lounge around in sandals. It is helpful to get sandals that have good tread to be ready for any type of surface you may encounter. 
Comfortable Walking Shoes
You are going to want to see it all on the many excursions we offer, so it is important to have shoes that you trust to take you to all the places. Make sure you break in any new shoes before the trip, and when choosing shoes- comfort is key. 
Beach bag or lightweight backpack
When you journey off the ship, you want to be able to take the essentials with you. Therefore, a lightweight backpack or beach bag can come in handy. Each day you can take only what you need for that day's adventures. Make sure whatever bag you choose has plenty of storage and pockets. 
Seasickness pills or bands
If you haven't cruised before, you may not know if you're prone to seasickness. Even if you have cruised before, your experience can differ from trip to trip, and it's safest to be prepared. Medication works well, but some people prefer bands, which work using acupressure. Again, seasickness pills will likely be available in a ship's reception or shop, but you can save precious vacation time if you purchase seasickness provisions ahead of time.
Lightweight jacket or sweatshirt
It's smart to think about the climates you will be in, and comfort should be your first priority. Even if you're booking a cruise to a warmer climate, it's best to make sure you have what you need if it's chilly in the dining room, or you want to relax under the stars and it's a bit windy.
Proper attire
Look at the opportunities available on our Go Beyond pre-cruise and post-trips as well as our excursions. There are many places to explore, and some of the religious sites or local customs ask that you cover knees and shoulders. In addition, think about what you want to wear to dinner each evening aboard the ship.   
Binoculars
This isn't a must-have item, but they can be fun to have on hand when you're traveling on the ship, especially if you're on a river cruise. Binoculars bring the shore to you! Check out local architecture, wildlife, and landscapes in whichever city you're passing through.
Reusable cup
Hydration and/or caffeination is key. Reusable bottles or cups are smart and eco-friendly. You can fill them with water or coffee, and they're easily taken ashore to refresh yourself while sightseeing.
Resealable plastic bags
You never know when a resealable plastic bag is going to come in handy! They take up virtually no space, and they can be used for a variety of purposes. These are good to store shampoo or other liquids on any flights to protect your belongings. Also, if you're going on a shore excursion and you're worried your phone might get wet, you can pop your phone inside a bag. They can also be used to store wet toothbrushes or bathing suits when you're packing for your trip home. If you pack a few re-sealable bags in different sizes, you can't go wrong.
Download Our Travel Essentials Checklist
When all is said and done, avoid overpacking. On a ship, space is a consideration. Keep in mind the size of your cabin, the length of your trip, and what you'll really need while you're on vacation. It's great to be prepared for emergency situations, but you can probably keep your encyclopedias at home!