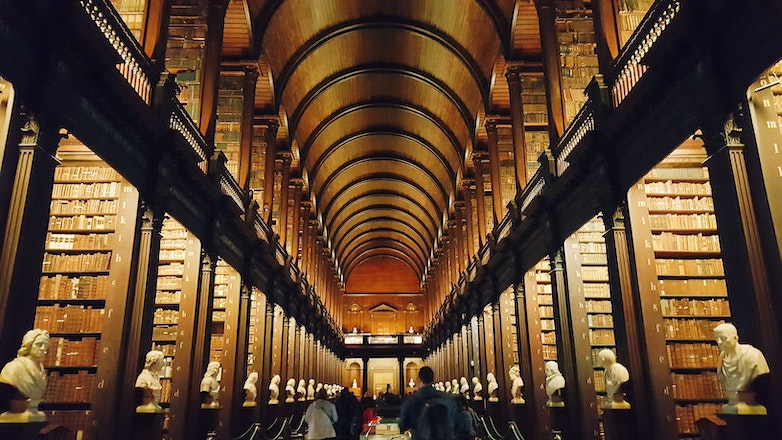 Ten Things You Must Do in Dublin If You're a Bookworm
November 29, 2022
Dublin is a certified, card-carrying UNESCO City of Literature, so it's no surprise that it's filled to the brim with bookstores, museums, and ways to while away your time in every bookish kind of way. If you're a lover of Godot or Dracula, here are just a few things to see while you're in Dublin, but you'll likely find more if you're looking!
10. Visit the Martello Towers
Also known as the James Joyce Tower and Museum, this is the opening location of Joyce's magnum opus, Ulysses.  The towers are free and open to the public daily, so you can see where Joyce stayed for just six nights before fleeing after a spate of gunfire in the night. The story goes that Oliver St. John Gogarty, an aspiring poet, rented the tower. He was joined there by Joyce and Samuel Chenevix Trench, a friend of Gogarty's. On the sixth night, Trench woke from a nightmare about a black panther and fired a gun into the dark, waking Gogarty and Joyce. Gogarty eventually disarmed Trench and then… also fired the gun. Joyce calmly collected his shoes and belongings, walked out of the tower, and never came back. This caper provided all the inspiration he needed for the famous opening scene to Ulysses.

9. Stroll through St. Patrick's Cathedral
The tallest and largest church of Ireland, St. Patrick's Cathedral is located in the heart of Dublin. This is also a hub for Jonathan Swift memorabilia. That's right! J. Swift was the dean of the cathedral from 1713-1745. St. Patrick's Cathedral is also his final resting place, and if you walk through, you can see where he's interred. Swift wrote his own epitaph in Latin, but fellow Irish poet W.B. Yeats translated it (somewhat loosely) into English. It reads:
            Swift has sailed into his rest;
            Savage indignation there
            Cannot lacerate his Breast
            Imitate him if you dare,
            World-Besotted Traveler; he
            Served human liberty.
8. Have a pint in one of the pubs on Duke Street
Whether it's the Duke Pub, the Bailey, or Davy Byrne's, you're sure to feel a little more literary after a pint or two here. These places were frequented by James Joyce, Patrick Kavanagh, and Brendan Behan. And when he was a student at Trinity College, Samuel Beckett lived above Davy Byrne's, which is also a location featured in Joyce's Ulysses.
7. Tour the Dublin Writers Museum
This museum, located in an eighteenth-century mansion, opened in 1991 and celebrates the last 300 years of Dublin's literary history. You can meander through and take a look at photos, original portraits, and personal letters and memorabilia of writers like Jonathan Swift, Samuel Beckett, James Joyce, Bram Stoker, W.B. Yeats, Seamus Heaney, and George Bernard Shaw. The museum often hosts special events and readings, and even has a whole room dedicated to children's literature.
6. Go on a walking tour to find your literary heroes
If you've been to Dublin before, it's no secret that you might see Oscar Wilde lounging  on a rock in Marion Square or James Joyce looking rather jaunty on Earl Street. Dublin is overflowing with public art, and if you walk around, you'll find that a lot of it honors its rich literary heritage. Look closely and you'll also find statues of Brendan Behan, Edmund Burke, Oliver Goldsmith, Thomas Moore, and Patrick Kavanagh, as well as a memorial to W.B. Yeats.
5. Soak up the history at Trinity College
Okay, so I'm giving you a hint about the statues: many of them can be found on the grounds of Trinity College! That's because Trinity has a longstanding history of graduating notable writers. Some of its alumni include Bram Stoker, Oscar Wilde, Jonathan Swift, and Samuel Beckett. And Trinity College's library is home to Ireland's greatest collection of books and historical documents. This includes both the Book of Kells and the Book of Durrow. These are beautiful illuminated manuscripts of the gospels, embellished with hand-drawn illustrations.
4. Stop in and buy a book at The Winding Stair
Of course with such a rich literary heritage, Dublin is bound to have loads of great bookstores to pop in and browse. The Winding Stair is a special shop, though. It's named after a Yeats poem, and it's one of the oldest surviving independent bookstores in Dublin. They sell a range of books from new to secondhand. In 2005 the shop was scheduled to close, but Elaine Murphy bought it in 2006. Today it's half-bookstore, half-restaurant. The café portion of The Winding Stair serves dishes featuring seasonal Irish produce. They also offer an extensive wine menu as well as a selection of local beers.
3. Go to the James Joyce Center
Many must-see literary lists about Ireland are James Joyce heavy, and it's not for nothin'. He grew up in Dublin, and while he did live in Paris, Trieste, and Zurich for most of his later life, he only ever wrote about his hometown. He explained this once, saying: "I always write about Dublin, because if I can get to the heart of Dublin I can get to the heart of all the cities of the world. In the particular is contained the universal." And so Dublin honors James Joyce with his own museum. The Center is housed in an eighteenth-century Georgian townhouse and features exhibits delving into the history of Ulysses. You can also see the original front door from No. 7 Eccles Street as well as furniture from the apartment where Joyce wrote most of Finnegans Wake.
2. Walk through the National Library of Ireland
The National Library of Ireland is beautiful and enormous—it has an estimated 8 million items. Because it's a national library, it does not lend its items, but it's free and open to the public, so you're welcome to stop in and peruse the shelves. The library is home to impressive archival collections, including personal letters and notebooks of writers like Seamus Heaney, James Joyce, Colm Tóibín, and W.B. Yeats.
1. Experience a Literary Pub Crawl
Nearly every night of the year, a team of ebullient actors leads book and beer lovers through the streets and pubs of Dublin. The actors perform scenes from Waiting for Godot, serenade pub crawlers with songs and history, and even give a short quiz at the end of the evening to make sure everyone was listening! It's the perfect way to get a glimpse of literary Dublin, led by experts. And enjoy a pint or two on the way.