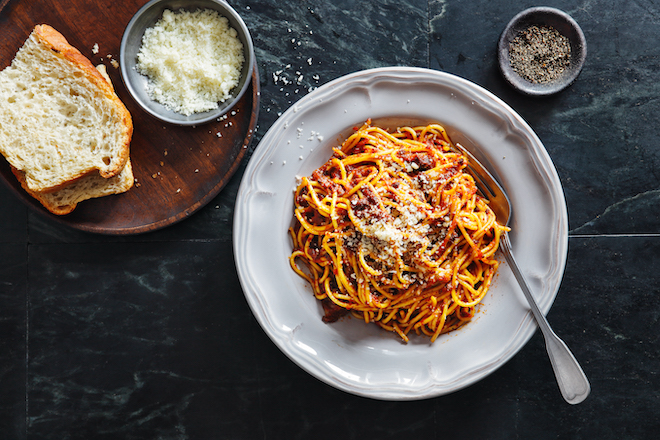 Culinary Cravings Across the Seas: A Go Next Journey Through Unforgettable Bites
September 01, 2023
One of the best parts of traveling is the opportunity to indulge in the local cuisine, savoring flavors that linger in our memories long after we've returned home. We reached out to our team of Program Managers and travel professionals (the ones who orchestrate Go Next's adventures) and asked them to share the dishes that have forever left a mark on their palates. Here's what they said:
Traditional Irish Breakfast
Program Manager: Nicole, USA
There's nothing quite like stepping ashore in Ireland as the hearty embrace of a traditional Irish breakfast welcomes you. With sausages, bacon, eggs, and the infamous black and white puddings, this breakfast is a testament to Irish hospitality and the perfect way to start exploring this charming country.
Get a taste of Ireland's charm.
Magical Mount Vesuvius Lunch
Program Manager: Filippo, Italy
Imagine dining with the backdrop of the majestic Mount Vesuvius surrounded by sprawling vineyards and the aroma of buffalo mozzarella hanging in the air. Filippo recalls, "We once had an excursion in Naples, and there was an included lunch on the side of Mount Vesuvius at a local farm producing wine and buffalo mozzarella. We had such a delightful meal […] and a stunning view. That was a moment I will never forget!"
Witness the majesty of Mount Vesuvius in Naples. 
Spicy Duck and Watermelon Salad
Program Manager: Lydia, French Polynesia
It is well-known that our travel partner, Oceania Cruises offers one of the most highly coveted dining experiences at sea. This is why it came as no shock to us when Lydia shared that her standout culinary memory came from one of the ship's onboard restaurants, Red Ginger. The bold flavors of the spicy duck and watermelon salad create a taste revelation, skillfully merging the savory and sweet components of crispy duck, juicy watermelon, crunchy cashew nuts, and refreshing herbs, all elegantly united with a sweet fish sauce.
Savor the flavors of Asia at Red Ginger on  Oceania Cruises' Marina, Riviera, or Sirena.
Authentic Pizza in Italy
Program Manager: Cheryl, Austria
When in Italy, it's practically mandatory to savor the heavenly goodness of pizza. Authentic Italian pizzas in Amalfi and Naples, the birthplace of this iconic dish, feature a thin, crispy crust topped with fresh and flavorful ingredients. 
Sail away on a pizza-filled escape to Italy. 
Fresh Catch from Local Waters
Program Manager: Marion, USA
No Go Next cruise isn't complete without indulging in the bounties of the sea. From succulent shrimp to perfectly seared scallops, the local fresh seafood savored both onboard and ashore becomes a seafood lover's dream come true.
Embark on an epic seafood journey in Alaska.
Pasta, Pasta, and More Pasta
Program Manager: Branka, Croatia
Pasta lovers unite! Like most of the world, Branka can't get enough of pasta, and it's not just confined to Italy. From the tender Italian spaghetti with clams to the soul-soothing Japanese ramen and comforting Chinese noodles, each variation tells a tale of cultural heritage through the art of pasta.
Pasta la vista, baby!  Let's go to Italy. 
Lunch in Papeete, Tahiti
President and CEO at Go Next: John Weeks, USA
The Tahitian lunch experience celebrates the island's vibrant culture and abundant natural treasures. From the irresistible scent of grilled mahi-mahi to the velvety sweetness of tropical fruits, you can taste the culinary artistry and feel the warmth of the island's hospitality. 
Escape to Paradise in Papeete, Tahiti.
Travel encompasses more than mere landmarks and scenic views; it unfolds a gastronomic odyssey that can enrich your taste buds and widen your cultural perspective. Each dish tells a story of the places you visit. Embark on an upcoming cruise with Go Next and let your senses feast on the unforgettable flavors of the world. 
Bon appétit and happy cruising!