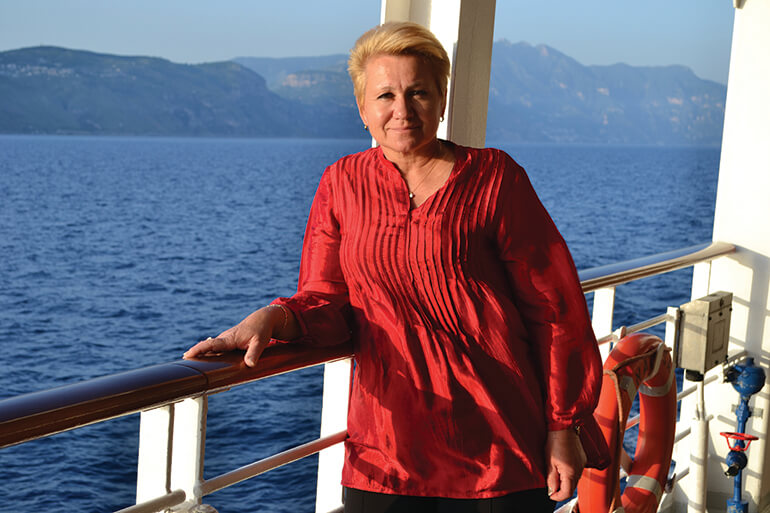 Get to Know a Program Manager: Travels With Branka
September 18, 2019
We hear it from our guests all the time: Go Next's onboard Program Managers turn a great trip into "The Best Trip I Ever Took." Whether it's dishing insider information about cities, recovering lost luggage, arranging special get-togethers with new travel friends, or securing those special shore-side dinner reservations—the special brand of personal attention from Go Next's Program Managers makes all the difference for your trip of a lifetime.
Because a Program Manager is the closest thing to having a personal assistant along on your journey, we thought you should get to know the qualities we look for.
What better way to do that than to ask Program Managers about themselves?
So meet Senior Program Manager Branka. A twenty-six-year veteran of Go Next and native of Zagreb, Croatia, Branka has lived and worked in Spain, the United Kingdom, China, and Mexico, and now resides in Croatia where she enjoys the tranquility of rural life between her travels. She is fluent in English, German, and Croatian, and has an excellent command of Italian, Spanish, and Slovenian. With a B.A. in English, history, and fine arts from the University of Zagreb, Branka has a keen eye for detail in a wide variety of travel situations.
________________________________________________
Branka, what drew you to the travel business?
Branka: I always felt I was simply born into it. At the age of 13, I bought my very first suitcase and an airline ticket to the UK out of my own savings. Five years later, I had a first contract as a resort rep, thinking it would be for summer only. That was in 1980! I'm still here. . . . The travel business is infectious and like no other job.
Tell us about what you do for Go Next.
Branka: I'm a Senior Program Manager, but really I don't like titles. I'm part of a team, both in the office as well as on location. We all work and strive together to give the best experience to our guests and have them come back for more.
My duties over the last twenty-six years with Go Next have evolved in different directions. First and foremost, I'm responsible for the fabulous team of Program Managers that look after our guests on location. I source them out, train them, assign their work schedules, and make sure they have all they need. I even look after their travel arrangements, expenses, and pay. I'm also part of the Product Development team, which entails site inspections (hotels, ships, areas), planning, and new ideas. Then there is the operations side of every program we run—day-to-day planning with our suppliers, hotels, etc. It's never boring!
And what is your favorite part of the job?
Branka: Although I still enjoy the travel and meeting people and new places, I discovered a while back that I'm a planner—I have grids for everything! I like to see things in order and set into priorities. It helps to see the big picture and make sure that nothing falls through the cracks.
I'm sure our readers would be interested to hear about your proudest on-the-job Program Manager moment—
Branka: There are many proud moments in this job, especially when you see how much guests appreciate the assistance and attention they're given. Every time a guest finds out that I'm in the "senior position" and comes to me to praise one of my team, I feel great. Brings goosebumps!
Your favorite city is…?
Branka: This is a difficult question and probably the most frequent question asked. I'm not sure I have one. I like returning to many cities for various reasons—history, culture, friends, events, and beauty in different seasons.
How about a favorite travel memory?
Branka: Of all my travels around the world, the memories that come back most often are of my year-long overland trip across Africa in the mid 80s. That was at a time when you left home and were not heard from until you returned. My only contact with back home were occasional letters addressed "Poste Restante" to a few local post offices scattered across the continent. The trip was grueling in many ways, but oh, what an experience! We did it all—crisscrossing the Sahara Desert, sleeping in the jungles, climbing Kilimanjaro, seeing silverback gorillas—long before the tour groups got there.
What is the best travel advice you ever gave?
Branka: Pack light! I repeat that time and again. We need so little in life, and so often I see people struggling with suitcases the size of a closet. It often makes me wonder if anything has been left at home. Packing is an art.
Anything else you want our guests to know about you or the Program Managers?
Branka: I know I will sound biased, but I cannot miss the opportunity to praise my Program Manager team! They come from various countries, from the UK to Canada to New Zealand to Italy and so on. Most of them have advanced degrees in tourism and strong backgrounds in traveling and escorting tours—and above all, they are passionate about what they do. None of them are youngsters doing it for a few summers and then moving on. They have all chosen this path as a lifelong career, and most have been with Go Next for ten to fifteen years or longer. All of them are dedicated to creating a trip of a lifetime for our travelers, and in return they get a following from our guests. I often receive requests for a particular Program Manager to be on a particular trip. That says a lot.
________________________________________________
Thank you to Branka for this glimpse into the can-do attitude, extensive travel experience, and enthusiasm for travel that our guests have come to expect from all of our Program Managers.
Want to know more about the wonderful Go Next Program Managers who help you see the world? We have bios for all of our Program Managers on our website—read up on who will be on your next trip here.